CyclingRevealed's First Impressions '06
Stage 17, July 20th, Saint Jean de Maurienne to Morzine, 199 km
Flight of the Phoenix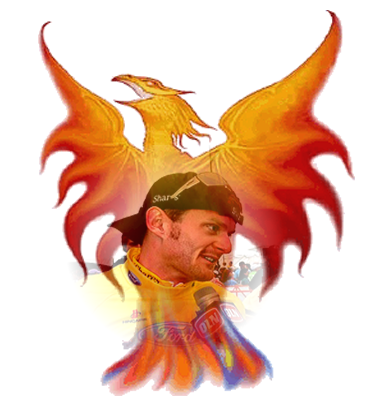 Risen from the ashes, Landis "The Phoenix " takes flight. [ Image ©: CyclingRevealed.com ]
Yesterday we were treated to a spectacular and dramatic day of racing. Michael Rasmussen was on the attack for almost the entire stage and delivered a mountain exploit that ranks with the best. Behind him the main contenders produced an attacking race that resulted in yet another change of the Yellow Jersey. In what is turning out to be one of the best Tours of all time, every stage has been exciting, aggressive and often surprising.
On this final day in the high Alps "can there be more?" The race situation says yes. With Landis now considered out of contention the race is probably between Pereiro, Sastre, Kloden, Dessel, Evans and Menchov. We say ' probably' because in this Tour of the unexpected who is to say that a break may not succeed in gaining significant time and thus introduce yet another possible race winner. However the days are running out with just today and then a final lumpy stage on Friday before the 56km time trial on Saturday.
Assuming that there are no more renegade escapes, Pereiro sets out today with his closest adversary, Sastre, at 1'50" and his furthest realistic adversary, Menchov, at 3'58". In the last long time trial on Stage 7 (52km) the most any of Pereiro's current nearest rivals could manage to beat him by was no more than about a one minute (Kloden 57 seconds). Based on this logic any rider wanting to relieve Pereiro of his Yellow Jersey needs to be less than one minute behind him going into Saturday's race of truth. So with Kloden being the best of this group in terms of TT ability, he needs to trim over 1'35" over the next two days. The others have bigger gaps to close down.
In short, anyone wanting to dethrone Pereiro must attack. And it was none other than Floyd Landis! Rejuvinated, crazy, inspired? Using his team massed at the front of the bunch as a spring-board, Landis leapt away on the first climb of the day, the Category 1 Col des Saisies. A break of 11 riders was over 8 minutes ahead of him. Floyd started to make rapid progress. A daredevil descent produced incredible results as Landis closed in on the break and left the bunch further behind. Immediately the road reared up again for the 12km climb up the Category 2 Col des Aravis. Landis caught the break about half way up. Over the top Landis was now 4'30" ahead of the Yellow Jersey group.
For Floyd this was all or nothing. The obvious strategy was for him to throw the bunch into complete disarray as they tried to come to terms with what was happening. Sure enough the pressure in the peloton was becoming very visible. Pereiro's teammates were flogging themselves at the front and then one of them slipped backwards rapidly. Other riders were also suffering as attrition set in. Meanwhile Patrice Halgand was plowing a lone furrow about 1 minute ahead of the Landis group.
Ahead of him Landis had the Col de la Colombière (Categry 1), the Côte de Châtillon-sur-Cluses (Categry 3) and finally the daunting 'hors categorie' Col de Joux Plane to either ride into immortality or go out in a blaze of glory.
In 2000 I stood at the 1km to go sign at the top of the Joux Plane. That day a furious Pantani set out to demolish Armstrong. After a long break and an exhausting chase, Discovery reeled in Pantani who then blew spectacularly. By this time the race had reached the Joux Plane where Armstrong suddenly bonked (having forgotten to eat while chasing down Pantani). He was over two minutes behind Ullrich and Virenque and on the verge of losing his Yellow Jersey when he passed me. Nearly 20 minutes later Pantani came sadly past accompanied by two teammates. Little did we know that this was to be Pantani's very last Tour mountain.
Landis must have been very mindful of that day as he topped the Colombière in the lead with T-Mobile's Sinkewitz. The bunch came through 8:33 minutes later. Landis was now the virtual race leader as the peloton looked completely impotent. Pereiro's remaining domestiques were nursing their beaten looking race leader. Even more surprising was that no other rider or team was coming forward to lend a hand to the chase. They were all looking at each other. Endless days of very hard and aggressive racing were taking their toll. Perhaps they should have all done what I did when I rode over the Colombière. At the top I stopped at the top for a meal in the great restaurant there. Fabulous rustic dishes of meats, cheeses, potatoes and other goodies are cooked in little coal braziers at the table. Good solid and very tasty mountain food to restore strength to weary legs.
Finally on the long drop down the Colombière CSC came forward to drive the chase with Jens Voigt up front doing his impersonation of a Formula 1 race car. No matter, Floyd was still pulling away and as he was riding up the Côte de Châtillon-sur-Cluses the gap now stretched to over 9 minutes. The Joux Plane would decide everything and by now the whole world was rooting for Floyd.
The final run in to the Joux Plane is very cruel. A long and very fast ride along wide flat roads enters Samoens where suddenly a sharp left turn up a road not much wider than a car takes the riders between some houses and then immediately the road rears up. This sudden transition demands a rapid shift from the big ring to the small ring as the gradient sends shudders through the legs.
Floyd hit the climb hard and Sinkewitz could no longer hold his wheel. Meanwhile the fast run in to the climb had benefited the peloton but as soon as they hit the climb it self destructed. Out of the panicking mass Schleck pulled his man Sastre free. A short while later Sastre was alone. Sastre and Landis were both riding very well, and Sastre was gaining. Behind them T-Mobile was trying to limit the damage as Pereiro desperately hung on.
Landis continued majestically up the climb showing power and extreme discipline as he poured endless bidons of water over himself. Back down the mountain his strategy had played out perfectly as open warfare permeated the race. Riders were attacking, fading, returning for another effort. They were all suffering mightily. For his part Pereiro rode courageously in defense of his Yellow Jersey.
With a deadly serious look of sheer defiance, Landis screamed into Morzine to a King's welcome from the huge crowds. Sastre lost time to the raging Landis on the descent and came in 5'42" later. Pereiro gave it his all and just managed to hold on to his Yellow Jersey by 12 seconds from Sastre and 30 seconds from the flying Phoenix, Floyd Landis.

Landis id back! [ Image ©: www.gazzetta.it ]
"Can there be more"? Oh, yes! Tomorrow is a dangerous stage. No big mountains but one that could see a dangerous break. Pereiro's and Sastre's teams will need to be vigilant as Phonak sits back and watches them both along with T-Mobile who have Kloden sitting in 4th place 2'29" back. In his post race interview Landis stated in no uncertain terms that winning the Tour was his only goal. So tomorrow someone will need to do a Landis type epic ride to stop him doing that because in Saturday's time trial he should eclipse Pereiro, Sastre and anyone else fancying their chances.
In the annals of the Tour Floyd's audacious ride today ranks right up there as one of the greatest ever. His loss of over 10 minutes yesterday as race leader was as unique as it was devastating for a Tour race leader. To come back the next day and reverse much of that loss is almost beyond comprehension.
For a sport that loves inspiring nicknames we are reminded of the famous tale from Egyptian mythology about the Phoenix which rose from the ashes of its funeral pyre and then flew off to paradise. Today we witnessed the flight of the Phoenix heading for paradise in Paris . From here on Floyd Landis deserves to be known as "The Phoenix "!
Tomorrow : Morzine to Mâcon, 193 km could provide some crumbs for the sprinters. Come back to CyclingRevealed.com for our daily impression.
Return to Tour ToC >>> Next Stage >>> Previous Stage >>>