By Barry Boyce,
Cycling Historian

Notice the smile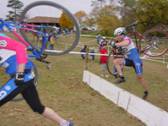 Shouldering
Carrying
'Muddy Marvelous' !
To the British the word 'Bloody marvelous' is an exclamation of extreme. To a cyclo-crosser the extreme is 'Muddy Marvelous' !
Muddy is a word frequently used throughout Cyclo Cross (CX) world to describe (usually with delight) the often less than advantageous racing conditions. CX is the winter extension of the cycling season. In the early days of CX, most of the great road racers used the winter races to keep their fitness during the off-season. Mostly scheduled for the winter months, CX is run from October (sometimes September) through February. The courses are short (most 2.5 km to 3.5 km) and include sections of paved road, forest, and grassy fields. The ideal course is designed to be 80% to 90% ridable with as many as four natural and/or artificial obstacles to break the rider's rhythm. One of the popular features of most courses is the "Trou du diable" (the hole of the devil or today: the drop of death). The 'cross' bike is very similar to a road bike but with knobby tires, low gears and very good breaks. Most racers opt for a 44 to 50 tooth outer chainring and 38 or 39 tooth inners. The rear cassettes are typically 12 to 27 cogs or sometimes 13 to 27, depending on the rider.
The races are 'mass-start' events and are very fast from the opening gun. With the obstacles along the course running becomes important to the cyclist. Tree roots, large rocks, icy sections, and 14 to 18 inch, man-made barriers require the rider to dismount and remount with great agility. Two means of getting over the barriers are 'carrying' and 'bunny hopping' . Carrying merely requires grabbing the bike by the top tube and lifting over the barrier. Bunny hopping requires staying on the bike and skillfully elevating the bike and rider over the barrier with a hop. Practice is a must! Often courses demand running uphill, which requires the techniques of 'shouldering' (skillfully carrying the bike on the shoulder while running). Bike handling is extremely important, especially at the "Trou du diable". Large crowds gather at this point to watch the skillful riders traverse and the lesser riders roll down.
The sport of Cyclo Cross is one of the most challenging disciplines in cycling. The excitement of a great Cyclo Cross race can be one of the most thrilling events for riders as well as fans. Find one of the events on your local race schedule and enjoy the thrill. It's 'Muddy Marvelous'!