CyclingRevealed's Giro Perspective
Tappa 10, May 18th, Ravenna to Rossano Veneto, 212 km
Calm Before the Storm
After a glorious rest day in Ravenna the Giro d'Italia continues with a dead flat, 212 km sprinter's stage. With the race storming into the intimidating Dolomite Mountains on tomorrow's stage the peloton seem reluctant to set anything but a slow tempo.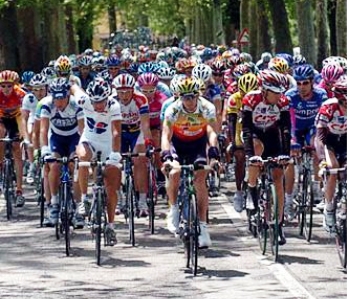 The peloton's early 'piano' tempo [ Image by La Gazetta ]
Sele Italia's Rafaele Illiano broke the calm at the 113 km mark of the stage and opened a 2'00" gap. Fassa Bortolo's fast tempo reeled in Illiano with 30 km to go.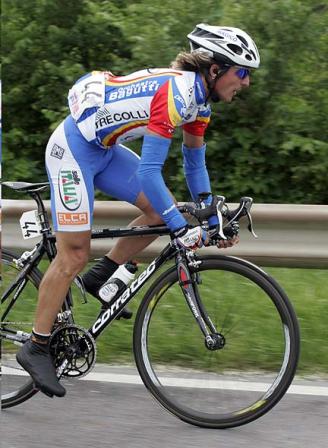 Lone breakaway by Rafaele Illiano [ Image by La Gazetta ]
Once the peloton reached the finish area in Rossano Veneto they had to negotiate three 5.2 km circuits of the city. The intensity of the race increased as teams of the sprinters started to contest Fassa for position on the front at over 30 mph. Fassa took full control with 1 lap to go.
Fassa's Alessandro Petacchi was looking for a second stage win in a row held tightly to his lead out train. At the 500 meter sign Marco Velo started the final effort for Ale-Jet. But it was too slow and Petacchi had to jump early. Perfectly place Aussie Robbie McEwen came off Ale-Jet's wheel and made textbook drive to the line and nipped Petacchi. The little Aussie score a hat trick of stage wins.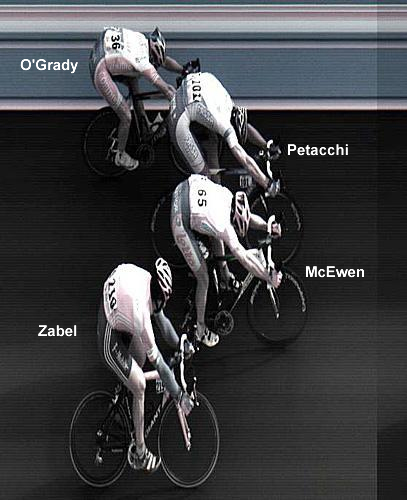 Stage winner Robbie McEwen but not by much… [ Image by La Gazetta ]
Danilo Di Luca held the race lead and the Maglia Rosa. Look for a shoot-out in the Mountains tomorrow.
SPECIAL NOTE: After the finish of stage 10 Italian police search the hotel of Davitamon-Lotto, the team of the stage winner Robbie McEwen. An Italian wire service reported that national police searched the hotel looking for a hypobaric tent (called an Altitrainer).

The tent is not officially banned by the Union Cycliste Internationale (UCI) anti-doping rules, but early reports stated that Italian laws might make the tent illegal. "I believe one team rider uses it. Personally I've never used it," said McEwen.

The UCI came to the defense of the team, saying in a statement on Thursday that the hypobaric equipment found in the hotel housing the Davitamon-Lotto team is not illegal.

"The Altitrainer is not forbidden by laws in most European countries, where it's used in training camps of several national Olympic committees," the UCI said.

"It's ridiculous," said Davitamon-Lotto director Herman Frison.
Return to Giro 05 ToC >>> Previous Stage >>> Next Stage >>>