CyclingRevealed's Giro Perspective
Tappa 14, May 22nd, Egna to Livigno, 210 km
The Penultimate Stage
The 2005 Giro d'Italia presented the penultimate drama of this year's race on the climb of the Hors Categorie Passo Stelvio. The majestic Stelvio (48 hairpin turns over 25 km) was first introduced to the Giro in 1953, this former military road is the highest pass in Italy.
The stage left the Wurth factory in Egna and rolled steadily for 121 km before starting the drama of the day.
On the first GPM of the day, the Category 1 climb to Frassineto Verschneld, a nine rider breakaway formed. The group included yesterday's winner Ivan Parra and Damiano Cunego. With no real danger man in the group the Maglia Rosa didn't seem concerned.

Cunego leads an early breakaway on the Frassineto climb [ Image by La Gazetta ]
Riding tempo two Selle Italia teammates went over the summit of the Stelvio first and second. KoM leader Jose Rujano went over first to take the 2,200 Euro Cima Coppi and congratulated Parra for extraordinary help. Behind the battle for the Maglia Rosa was heating up. The first casualty of the climb was Ivan Basso, race leader Paolo Savoldelli's closest challenger. The Team CSC leader, troubled by stomach problems, fell off the pace early on the climb. He would ultimately lose 42'15" on the stage and any chance in the General Classification.
Savoldelli easily controlled the pack on the climb because no one dared to attack intimidating Stelvio. The diminished peloton cruised over the summit 8'10" behind the breakaway.
On the 15 km descent into Bormio the now shattered breakaway was down to 4 riders and losing time. Next up was the Category 1 Passo di Foscagno.
Panaria's Emmanuele Sella made a huge effort to bridge up the lead four. On the climb of the Foscagno Sella caught and quickly passed the breakaway group. Parra answered and jumped away from Selle. Parra quickly gained 45" and went over the summit 2'00" ahead of the chase group.

Selle Italia's Ivan Para headed for Livigno [ Image by La Gazetta ]
He plunged into the finish to score his second stage win in 2 days.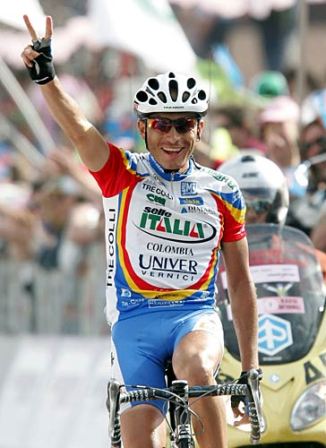 Stage winner Ivan Parra [ Image by La Gazetta ]
Paolo Savoldelli and the Maglia Rosa group rolled in 3'15" behind the stage winner. Danilo Di Luca moved into second place overall.
A disastrous day for Ivan Basso, after losing the race lead on Saturday the climb of the Stelvio shattered his chances for overall victory.

A disappointed Ivan Basso lost all chances for the Maglia Rosa [ Image by La Gazetta ]
Return to Giro 05 ToC >>> Previous Stage >>> Next Stage >>>