By Eddy O'Rourke
Flandria Cafe and
CyclingRevealed Historian
Also see:
Six Degrees of Ferdi Kubler
From Flandria Cafe
Fast Eddy O first wrote this article for Flandria Cafe in April 2010.
Eddy O of Flandria Cafe (a virtual wielercafe) is rapidly become one of the best Cycling History writer on the internet, if not anywhere.

To follow Flandria Cafe either go to the "Sign-in" section in the upper right corner or click on the "Follow" button in the left hand colume of Flandria Cafe. Any and all comments are welcome.

So make yourself comfortable, pour a glass of your favorite Belgian brew, and enjoy!



I hope I'm as fit as Ferdi when I'm 93. (photo: Archive)
Quick, who's the oldest living Tour de France winner?

Yup, Ferdi Kubler. The Eagle from Adliswil, near Zurich, Switzerland. 93 years young. Living proof that if you live right and have the right outlook, age can be just a number.

'Ferdi National' they call him. A national hero! They say only Roger Federer comes as close in the popularity stakes there. Gives you some idea of his stature.

Most know that Ferdi famously won the 1950 Tour de France. Soon it will be 63 years ago. Think about that.

1950, the year when Gino Bartali took his toys, and all his Italian boys (Maillot Jaune wearer Fiorenzo Magni too!) onto a train back home, protesting violent fan threats.

Like his nickname Eagle, Ferdi swooped to seize the moment. He was flying and held off young upstart Louison Bobet to win 'his' Tour de France. He'd later swap podium places with Bobet in the '54 Tour in the middle of the Breton's triple Tour victory, finishing 2nd and taking the Green Point's Jersey.
In 1951 he tweaked Italian noses again, winning the World Road Championship in hilly Varese in front of a huge Lombardian crowd of rabid tifosi, fully expecting a home win. Ferdi was flying that day, starting and continuously providing the drive to sustain his early break, and still having the energy and punch to outsprint those that came up to it later - including the favored Azzurri duo of Fiorenzo Magni and Antonio Bevilacqua. Quite the ride.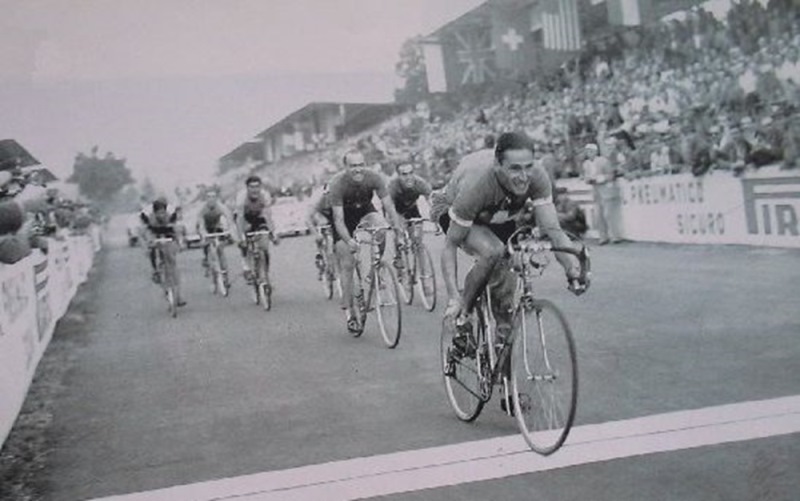 World Championship Varese, 1951. Ferdi Kubler over Azzurri homeboys Magni and Belivacqua. (photo: surlaligne.free.fr)
"The Ventoux killed Ferdi"

(photo: INA Archive)
The story of his famous 'blow up' on the Ventoux in the 1955 Tour is another great story. "The Ventoux killed Ferdi" he told the press. [Read it here if you don't know that story]
But perhaps Ferdi's greatest exploit was not any of those. Rather it was the less remembered, and little talked about 'double-double'.

It was in what really used to be 'le weekend Ardennais'. Ferdinand Kubler won both Fleche Wallone AND Liege Bastogne Liege for two years running: 1951 and 1952.
Back in those days, those two tough hilly Ardennes classics were held over a single weekend: A Saturday-Sunday back-to-back combo of pain that makes my legs hurt just thinking about it. At the time, both races finished in the middle of Liege, and each were 220Km+.
But in an era of real "hardmen" and longer distance races, 'ol Ferdi stood out as a phenomenon of robustness and endurance. Most days he'd train for 6 to 8 hours on the bike. His directeur sportif at the TEBAG firm - Fritz Dietsche, who'd saved Ferdi's career in 1948 - used to discourage his riders from owning Automobiles. "Cars are not for cyclists Ferdi..."

When Ferdi did the 'double-double', he was no kid. In 1951 he was 32 and closer to the end of his career than the beginning. In the Fleche on Saturday, he got in a break with Louison Bobet, Jean Robic, and Gino Bartali. The Belgian trio of Rik Van Steenbergen, Roger Impanis and Marcel Kint were chasing 45 seconds down. The four rider group of stars held off that Belgie hunting party, and in the sprint Kubler took it by about four lengths over Bartali.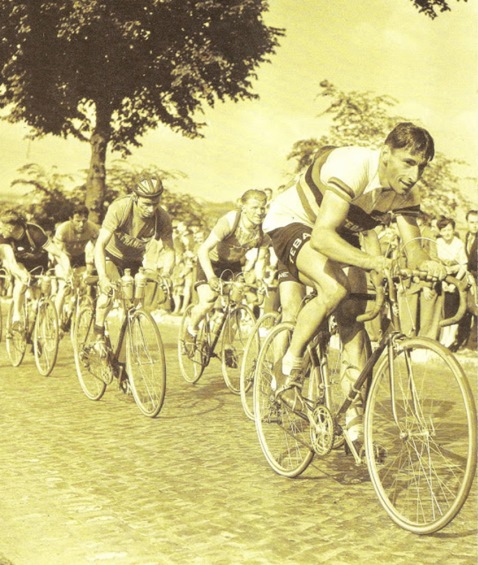 A smiling Ferdi doses out the punishment in the 1952 Fleche Wallone. (Miroir Sprint Photo from the book 'Grands Exploits' 1989)

NOTE: Look at the faces behind. They're not smiling. Now you know where Spartacus gets it from.
Must be something in the water in Switzerland.

Sunday was warmer, but windier. Ferdi flew away in the finale to catch a 21 year old escapee Germain Derijcke, who two years later would be the last man dropped by Fausto Coppi in the '53 world championship in Lugano. Ferdi likewise dispatched the Belgian in 'de spurt' to take the double.

In 1952 he returned in the Arc-en-Ciel of World Champion. On Saturday, he won the Fleche again in sprint, this time over Stan Ockers, Impanis and Decock. On Sunday a long 160km escape marked by the attrition of the Ardennes hills left only the Van Dekerkhove alone and in the lead. Kubler and Robic went on the offensive on the steep gravel climb called the Moulin-de-Ruy and hooked up with Van Dekerkhove, still 44k from the finish.

The Belgian kid wasn't born yesterday, and had the role of spoiler on his mind. He stopped pulling, and just before the finish in Liege, went for a long flyer. It surprised Robic, who was gapped by the move, but not Kubler. Nobody was stopping Ferdi. He reeled the kid back in like he was on a fishing line, then dropped him and crossed the line yards in front, sealing his second consecutive Ardennes 'double-double'.
Ferdi Kubler rode for the Swiss bicycle manufacturer TEBAG for many of his glory years. This small Swiss manufacturer was founded in the post-World War II years by Fritz Dietsche, one of Basel's car importers, and his associates Emil Freyand and Walter Haefner. The trio named their company 'Technical Requirements AG' - abbreviated as 'TEBAG'. They distributed Continental tires in Switzerland, and started the production of Tebag-bikes on the side, because at the time many Swiss still couldn't afford a car! For 25 years the small company stayed in the bike biz.
Dietsche is the guy who to this day Ferdi credits for saving his career. In 1946 he suffered a terrible crash in Lausanne, fractured his skull in two places, and had to borrow to pay the bill of the Cantonal Hospital of Lausanne. In those days cash was king, and Kubler - who like Hugo Koblet started as a bakery bicycle delivery boy - was broke. Kubler was on the verge of quitting the sport. It led to another annus-horribilis (year of horrors) in 1947. His brother tragically died falling off a roof in a construction work accident. Then a few weeks later, his mother died in a cycling accident, where she'd fractured her skull after colliding with a man who'd run into her path. Ferdi wore himself out riding six days all winter - not the ideal prep for the road season, but he'd come from nothing, had nothing, and needed the money. He won the 1st stage of the inaugural post-war 1947 Tour de France, lost the jersey the next day and abandoned totally destroyed by Stage 7 in Grenoble, coming in well behind the time limit.

Back in the '50's professional cycling was a lot smaller, and the world was a lot bigger. The pro sport was balkanized with riders on teams of bicycle brands whose commercial ambitions were largely confined to domestic country networks. Most pros didn't venture from their home country as much as they do these days. Those that did tended to be the better and the more mercenary. It wasn't uncommon for riders to be 'loaned' to foreign teams for foreign races. Bobet for example would ride for Stella in France, and Bottechia in Italy. Hugo Koblet was CILO's star in Switzerland, but would hitch a ride for Giradengo in Italy to become the first foreign winner of the Giro in 1950.
Tour de France 1950

(photo from Archive)
In 1947, Legnano's Italian star Gino Bartali was loaned to TEBAG for a Tour de Suisse he won handily. Neutral Switzerland was a popular destination in those post-war years. Relatively rich contracts and lucrative prize lists, and roads unaffected by the devastation of the war that wrecked most of France, Italy and Belgium.

But in 1948, Bartali wasn't planning to come back to defend the Tour de Suisse though, focusing instead on the Tour de France. It left TEBAG without a star, so their Directeur Sportif - a Italian-Swiss green-grocer named Hugo Mariani - recommended to boss Dietsche that they replace Bartali with Ferdi Kubler for the '48 Tour de Suisse. It took a bit more of a sales pitch than selling yesterday's vegetables. Dietsche was a businessman first, but enough of a cycling fan to know that Ferdi was inconsistent, volatile and far from a sure thing.

But he trusted Mariani and his instincts, and put Kubler on a low contract of 500 francs a month. He then told Ferdi to go with his wife to Arosa to rest and not come back to racing until he was healthy.

The rest was history: The revived Ferdi won the '48 Tour of Switzerland and his glory years were off and running on the TEBAG team.
So here's the Kevin Bacon six degrees of separation thing. Back in 1981 or so, I was 'a nobody' amateur rider, working part time at Action Sports - a ski
and bicycle retailer in my hometown of Beverly Massachusetts. We were a big FISCHER ski dealer, and one day one of my older racing friends John Alarie - who was Fischer's US national sales manager at the time - dropped by the store with a well-dressed, polite and tall vaguely European gentleman, who he introduced as Marco Mariani: President of Fischer USA.
In stark contrast to most self-important 'suits' you meet, Marco Mariani was a really nice guy, and our conversation soon veered inevitably toward European cycling. Eager to demonstrate I was not a schmoe but a serious rider with five-star anorak level euro-knowledge, the magic words 'Fausto Coppi' and 'Gino Bartali' rolled out of my mouth. That's when Mariani casually smiled and dropped the conversation stopper of all time, "Oh yeah, my dad used to be Gino Bartali's sports director... those guys Bartali, Coppi, Kubler were always at the house growing up" You got it jongen... His father was Hugo Mariani, the guy who saved Ferdi Kubler's career.

Small world… Proof of the 'six degrees of separation' theory and evidence that lifelong brand loyalty can be forged for the strangest reasons: since that day, I've always been faithful to Fischer Nordic skis.
Ferdi today is the poster boy for clean living and vigor. He reportedly plays a fair amount of golf, and credits his health to walks every day and his cycling career success to secrets that... well...really are no secret:

"I owed my success to incredible willpower, iron discipline and my hardness against myself." "Sleep, was another secret of my performance, I was never in bed after 9 pm."

And don't forget those 6-8 hours a day on the bike. Cycling is simple really. I think sometimes we make it more complicated than it needs to be.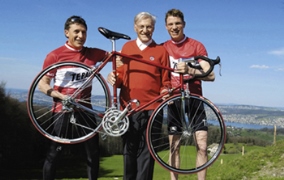 Kubler Sport revived TEBAG in 2004.

(photo: www.tebag.ch)
Today, Ferdi's son Andre has a company called Kubler Sport, and they are the Swiss distributor for Giordana. Back in 2004, they revived the TEBAG bicycle range too...producing a limited edition swiss-made steel frame replica, marrying modern componentry with classic design.