By Graham Jones
and Barry Boyce
CyclingRevealed Historians

CyclingRevealed's First Impressions '07
Here at CyclingRevealed we will report on Le Tour in a manner that would appeal to those great cycling historians.
Tour de France 2007 Picture Recap
First Impressions - Intro '07 xxx Tour de France 07 Stage Profiles xxx

Stage 20 Final Impressions A New Beginning?
White Jersey / Best Young Rider
The White Jersey calculation is the same as the Yellow Jersey Classification. All riders in this classification must have been born after January 1, 1982 (26 years old or less).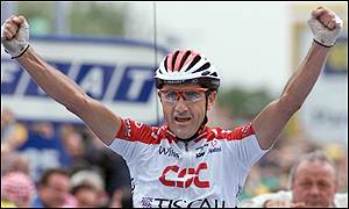 Bastille Day is a National holiday in France. History lessons tell us that Kings and Queens often used the Bastille (a prison in Paris) to lock up the dissidents. To the people of France the Bastille was a symbol of all the bad things done by their Kings and Queens. On July 14, 1789, a large force of French citizens stormed the Bastille and claimed independence for the people. Today, July 14th symbolizes the end of Monarchial rule in France . It is an Independence Day and the beginning of a new form of government.
Almost every year the Tour de France organizers schedule a stage on Bastille Day. For a Frenchman to win that stage is very prestigious. The following is a list of Bastille Day stage winners.
Laurent Jalabert a Bastille Day winner in 1995 and 2001
Return to CR ToC >>>