Top 20 All Time Major Classics #17
Liege-Bastogne-Liege 2003: An American's Historic Ride
"La Doyenne" , the oldest of all Classics, is always beautiful and mysterious. First run in 1892 as an amateur race, Liege-Bastogne-Liege has developed into one of the most prestigious and sought after races on the Pro-racing calendar. Today the L-B-L has gained status as one of the "Five Monuments" of Cycling.
In order to win the L-B-L a rider must conquer 12 legendary climbs, the toughest being the Cote de Stockeu (1.1km, ave. 10.5%), Cote de la Haute-Levee (3.4 km, ave. 6%), Cote de la Redoute (2.1 km, ave. 8.4%), and Cote de Saint Nicolas (1 km, ave. 11.1%). On Sunday, April 27, 2003 a very motivated Lance Armstrong wanted to become only the fifth Tour de France champion (and first American) to win L-B-L.
Image ©: www.letour.fr
The race didn't come easy for any of the 196 starters. A select group of elite riders went over the Cote de la Redoute with 33 km to go chasing a small breakaway. Slowly the lead group came back together before Lotto-Domo's Axel Merckx escaped solo.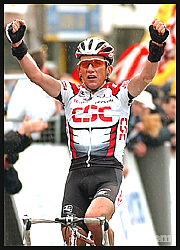 The race was now in full flight with just 15 km to the finish. Once Merckx was caught Lance Armstrong broke away with Alexandre Shefer (Saeco) and SamuelSanchez (Euskaltel) on the Cote de Sart-Tillmont. Armstrong's group opened a 30 second gap and it looked like the decisive move. Tyler Hamilton said: "When the group with Armstrong went away I thought 'that's the move and I think I missed it'."
The lead chase group was driven by Tyler 's CSC teammates Carlos Sastre and Nicki Sorensen. Under Team CSC pressure the race came back together at the foot of the Cote de St. Nicolas, 6 km from the finish. Tyler counter attacked a Michael Boogerd move and with 3 km uphill Hamilton applied the power. "All the way up the final climb I kept looking back to see how close the chasers were, but the TV moto was in the way. So I just kept driving the pace," said Hamilton .
Through the final corner Tyler could finally see Boogerd and Iban Mayo (Euskaltel) chasing hard but not closing. Across the finish line a stunned American claimed the biggest victory of his career.
American Tyler Hamilton achieved a history making victory by winning the 89th Edition of L-B-L and becaming the first American to win one of cycling's 5 Monuments.
SPCECIAL NOTE: The first American to gain glory in L-B-L was Greg LeMond. He stood on the podium in 1984 with a third place finish. Seven time Tour de France champion Lance Armstrong had two L-B-L podium appearances in 1994 (2nd ) and 1996 (2nd ).
L-B-L April 27, 2003
259 Km
Liege-Bastogne-Liege
1. Tyler Hamilton ( USA ) 6h28'50"
3. Michael Boogerd (Ned) +14"
Starters: 196
Finishers: 88
Average Speed: 39.889 km/h