Vuelta Travelogue - Quintessential Spain
Stage 12, September 8th, Logrono to Burgos, 133 km
Pilgrims Road
A long transfer takes the race to Logrono , where Stage 12 will trace the Camino de Santiago de Compostela , an ancient pilgrim route heading east to west to the Catedral de Santiago de Compostela. Santiago was the son of Zebedee and Salome. Santiago El Mayor was the brother of John the Apostle and one of the Jesus's 12 disciples. At the time of Apostle Santiago's death, tumultuous events required that his be spirited far away. Eventually his remains were returned and when re-discovered in the 9th century, Bishop Teodomiro ordered a church (now known as the Catedral de Santiago de Compostela) to be built on the site of the discovery. This event signaled a 'spiritual reorganization' across Europe and with it began many centuries of pilgrimage for people from all over Europe to this holy site.
ost riders will look at the parcours of the stage and expect an easy ride. But the undulating road to the stage finish at Burgos crosses another region well known for its strong winds. There will be big battles to make it into the leading bordure. The only question to be answered is "Will sprinters or breakaways rule the day?"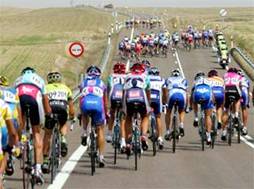 Bordures forming in the crosswind ( Image © Unipublic )
The rest day came as a welcome relief after Tuesday's brutal stage 11. All eye turned to the sprinters. The relatively flat Stage 12 does featured two category 3 climbs as well as strong winds of the Spanish plains.
Eight kilometers into the stage one lone rider, Luis Pasamontes (Relax Fuenlabrada), tested the will of the peloton and opened a 4'40" gap. When the tempo of the chase increased a 15 rider crash took down overall contender Roberto Heras. As Heras received medical treatment the chase slowed to wait for the contender.
he sprinter's teams took over and caught Pasamontes with 12 km to go. An immediate counter attack came from Discovery's Benjamin Noval, but the bunch wanted a sprint today and Noval was quickly absorbed.
The Fassa Bortolo train ( Image © Unipublic )
With 3 km to go the "Blue Train" of Fassa Bortolo drove the pace for Alessandro Petacchi. Inside 1 km Erik Zabel jumped past Petacchi in the final corner. Fassa's final lead-out man Marco Velo countered with a strong turn of speed launching Petacchi at 200 meters to go. Zabel couldn't answer the move, Petacchi first and Zabel second.
Stage win for Petacchi ( Image © Unipublic )
The day's question is answered… Sprinters rule the day!
Return to Vuelta 05 ToC >>> Next Stage >>>