Vuelta Travelogue - Quintessential Spain
Stage 15, September 11th, Cangas de Onís – Estación de Esquí Valgrande/Pajares, 191 Km
Categoría Especial for Roberto
Riding across to the Asturias Mountains, the race next heads for another Categoría Especial finish on s tage 15 at the ski station of Valgrande/Pajares. This brutal stage in particular is expected to take on epic proportions.
145 riders signed in for today's stage under harsh weather conidition. Rain, cold temperatures (13°C) and heavy fog all made the Asturian road conditions dangerous.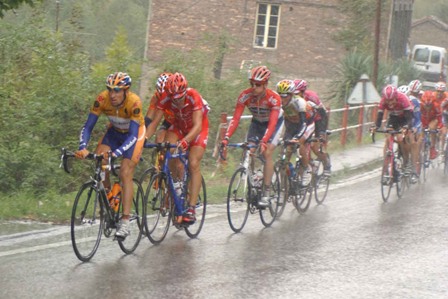 Nasty wether greeted the riders ( Image © Unipublic )
The race rolled out of Cangas de Onis at 11:55 as the first attack came less than a kilometer later. The first serious breakaway, 4 riders, established a 4'07" gap on the third and next to last climb of the day, the Alto de la Colladiella. But all eyes were on the Heras/Menchov group.
Roberto Heras made a strong attack on the Colladiella and put the race leader into difficulty. Over the top of the category 1 climb the stage still had 53 km to go and Heras was having a good day. Menchov re-connected with the elite group on the descent but Liberty continued a brutal pace. Slowly the Menchov lost contact as the road turned upward.
Menchov struggling on the Colladiella ( Image © Unipublic )
Liberty 's Michele Scarponi drove the pace of the elite group for Heras.
Liberty's Scarponi setting the tempo ( Image © Unipublic )
Under the 6 km to go banner Heras took matters into his own hands. His acceleration dropped Euskaltel's Samuel Sanchez and Comunidad Valenciana's Javier Pascal Rodriguez.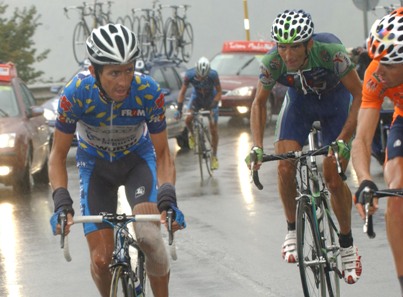 Heras attacked ( Image © Unipublic )
On his own at last Heras climbed with a solid tempo as the weather conditions worsened. King of the Spanish mountains Roberto Heras rode solo across the finish line 32 seconds ahead of Samuel Sanchez and 5'17" ahead of a tired Denis Menchov. Heras reclaimed the race leader's Golden Jersey.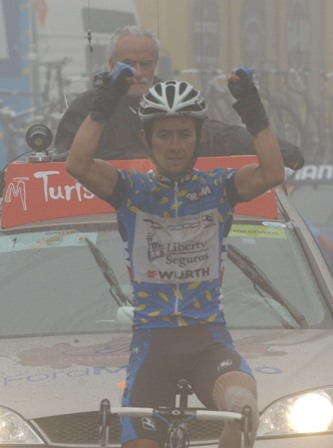 Heras in the fog for the stage win ( Image © Unipublic )
Return to Vuelta 05 ToC >>> Next Stage >>>