Vuelta Travelogue - Quintessential Spain
Stage 17, September 14th, El Espinar to La Granja de San Ildefonso, 165.6 Km
Sting in the Tail
The mountains are back. These climbs are not as difficult as the ones of the northern stages but they will bring some passion to the racing. Another transfer takes the race to the mountain range north of Madrid . Now come two stages that have a " real sting in the tail." Stage 17 starts in El Espinar, a small village northwest of Madrid , and takes in two Category 1 climbs as well as one Category 2 and one Category 3 climb.
After a number of failed breakaways Carlos Garcia Quesada (Comunidad Valenciana) launched his bid for glory on the climb of the Puerto de Navacerrada over 35 km from the finish.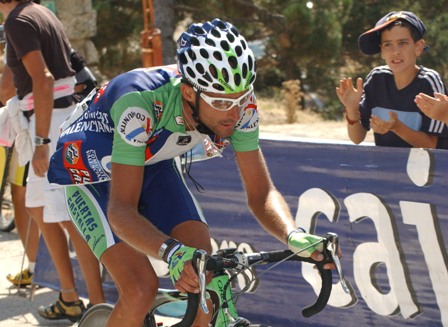 Carlos Garcia Quesada's breakaway ( Image © Unipublic )
Garcia Quesada still had 22 km to go and pushed a large gear to maintain a 2'18" lead over the Heras/Menchov group. Slowly through the closing kilometers Garcia Quesada's lead fell. Into La Granja his solid tempo held off the quickly closing chasers and the stage win was his.
The glory belongs to Garcia Quesada ( Image © Unipublic )
Denis Menchov and Roberto Heras finished together with Heras retaining the Golden Jersey.
Return to Vuelta 05 ToC >>> Next Stage >>>