Vuelta Travelogue - Quintessential Spain
Stage 2, August 28th, Granada to Cordoba, 189.3 km
Hard Stage for the Sprinters
Stage 2 of the Vuelta will take the riders along parched roads and past many of the famous Andalucian Pueblos Blancos (White Towns) on their way to Córdoba. While not mountainous, the 189.3 km route is certainly not flat. In 929, Córdoba was declared an independent caliphate, separate from Baghdad, and became the Moorish capital. The Christians retook it in 1236. While the riders rest between stages, many of the Vuelta race entourage will enjoy meandering the old quarter with its narrow whitewashed streets and geraniums tumbling out of flower boxes at every turn. Dominating the city is the Islamic mosque, which has the strange feature of a Christian cathedral inserted in its core.
This is a road race stage with a lot of alternatives. After a first passing through Cordoba at 150km raced the peloton climbs the height of second category, Alto de San Jeronimo, just 13 km from the finish line in Cordoba .
The race started slowly at 36.5 km/h through the first hour of racing. A small breakaway group of 2 iders, David De La Fuente and Herve Duclos Lassalle, managed to slip away from the peloton and build a 10'35" lead.

Saunier Duval's David De Le Fuente and Cofidis' Herve Duclos Lassalle ( Image © Unipublic )
Sprinter Tom Bonnen's Quick Step team began the chase in earnest. The gap began to fall as the 100+ degree F heat took its toll on the breakaway. Just after the 2nd intermediate sprint at 130 km Duclos Lassalle was caught by the chasing peloton. De Le Fuente continued alone.
The category 2 Alto de San Jeronimo saw the end of De La Fuente's break and opened the door for hard attacks. Eight rider escaped on the climb but the group shattered over the summit. Italian Leonardo Bertagnolli lead by 20 seconds over Pablo Lastras and Brad McGee. Lastras crashed on the tricky descent while McGee plunged down to catch Bertagnolli.
The "cat and mouse" tactics began a few kilometers from the finish. Brad McGee, the best placed rider, had no choice and lead out the sprint to gain as much time as possible. Bertagnolli jumped around McGee to win the stage, McGee gained enough time to take the Golden Race Leader's Jersey.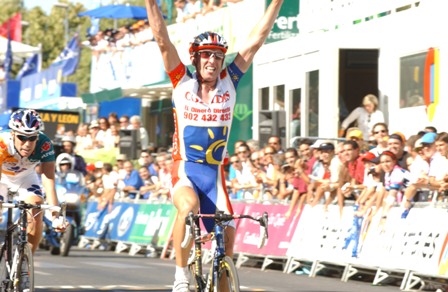 Stage winner Leonardo Bertagnolli and new Race Leader Brad McGee ( Image © Unipublic )
Return to Vuelta 05 ToC >>> Next Stage >>>