Vuelta Travelogue - Quintessential Spain
Stage 7, September 2nd, Teruel to Vinaros, 212.5 km
Plunge to the Ocean
The opening phase of Stage 7, 212.5 km from Teruel to Vinaroz, includes four Cat 3 climbs before quickly dropping to sea level and heading along the coastal plain. Here the weather often plays an important role. In 2001 torrential rains and wind made it so dark at the finish that the cameras had difficulty distinguishing the winner (Juan Manuél Gárate). The finish of stage 7 will be fast and furious with some fireworks at the finish in Vinaròs.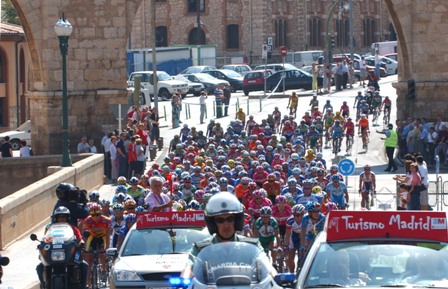 Peloton rolls through the neutral zone in Teruel under the director's red flag ( Image © Unipublic )
At 11:45 sign-in control closed and the riders are ready at the starting line of today's stage. Second placed Denis Menchov is a notably missing from the sign-in sheet. Although he is at the start line his absence from the sheet will draw a fine.
At 11:50 the riders roll-off for the 4.1 km neutral zone through the quaint streets of Teruel. Seven kilometers after the "start proper" a group of 5 riders established a gap on the peloton. The day's bid for glory was under way.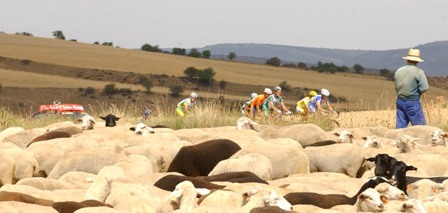 Early breakaway gets established ( Image © Unipublic )
Through the halfway mark the breakaway had a 3'58" time gap of the Liberty Seguros led peloton. Slowly the race lead's team was bringing the breakaway back. On the long downhill road to the coastal pain Alessandro Petacchi's Fassa Bortolo team began to help with the pace. Fatigue was beginning to show in the breakaway and the strong headwind spelled doom for the 6 escapees.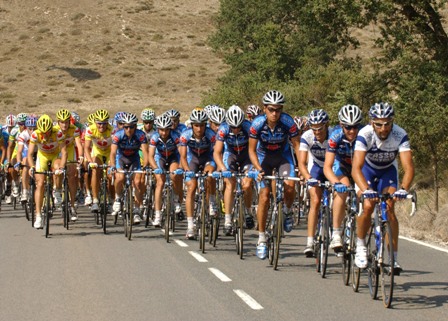 Fassa Bortolo and Liberty Seguros led chase ( Image © Unipublic )
The fading breakaway, which had been away for 182 km, came back to the peloton with 23 km to go. The table was being set for the predicted fireworks in Vinaròs.
Quick Step's Paolo Bettini attacked with 9 km to go. The narrow roads and twisting turns were treacherous as Bettini's attempt to steal the stage win continued. Quickly into the turns Bettini was taking all risks and rode briefly off the tarmac. Fassa Bortolo drops off the pace after an untimely Petacchi puncture. The Italian held a 12 second gap for 4 km, but could not hold off the now T-Mobile led chase.
ith Fassa Bortolo missing from the lead out train the sprint was chaotic. Out of the very fast bunch sprint came Discovery's Max Van Heeswijk for the stage win. Erik Zabel gained another close second.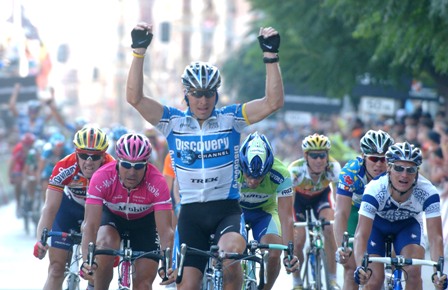 Stage winner Max Van Heeswijk (Image Unipublic)
Roberto Heras finished in the lead pack and remained the race leader.
Return to Vuelta 05 ToC >>> Next Stage >>>