Vuelta Travelogue - Quintessential Spain
Stage 9, September 4th, Lloret de Mar ITT, 48 km
Life on the Beach
The race stays in Lloret for the individual time trial on Stage 9. The stage covers a technical 47-km course with three modest climbs that include the Category 3 Alto de Tossa. This ITT could produce some significant GC changes. If the organizers have done a good marketing job, large crowds will leave the beaches and other holiday attractions to see the elite riders battling the clock.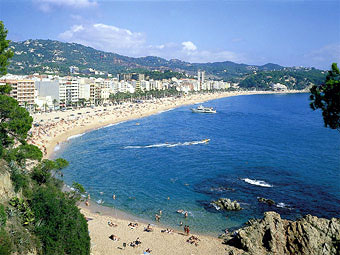 Lloret de Mar
180 remaining rider started the ITT under the watchful eye of the UCI officials. Each bike goes through rigorous inspection to insure the specialty bikes meet UCI regulations and no rider gains an illegal aerodynamic position.
One by one the rider rolled off the start platform at 1 minute intervals. The early leader was Communidad Valenciana's Ruben Plaza. Through the 10.8 km intermediate time check Plaza held a 28 second lead as the top 20 riders in the GC started at 2 minute intervals.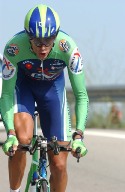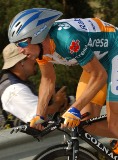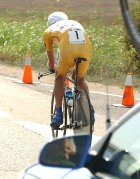 Plaza, Menchov, and Heras ( Image © Unipublic )
All eyes were on the top 2 in the General Classification, Roberto Heras, overall leader and last off the TT start, and Denis Menchov, second place overall. Through the 10.8 km intermediate time check Menchov trailed Plaza by 5 seconds but led Heras by 2". Menchov was on a good rider and opened his lead over Heras to 27 seconds. Plaza dropped to 1 second behind.
In order to win a time trial riders must look for every opportunity to gain time. Strangely for a Grand Tour TT the course was not closed to traffic. Traffic cones marked the course as a light flow of traffic shared the road. Not a noted time trailer race leader Heras took extra risks descending the Alto de Tossa, weaving in and out of the traffic cones. Heras would be docked 10 seconds for cutting the course.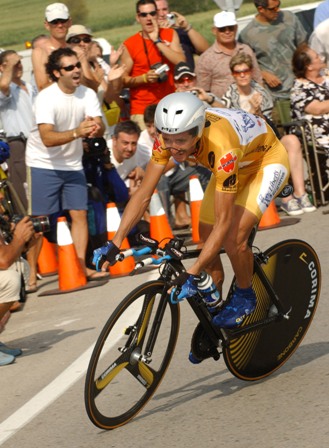 Heras taking all risks ( Image © Unipublic )
Menchov continued his charge. Through the third time check he had opened a 40 second lead on Heras and 9 seconds on Plaza.
The final kilometers of the course were straight into a headwind as the determined Russian sprinted to the finish. Menchov crossed the line in 1h00'54", increasing his lead on Heras to 49 seconds and winning the stage from Ruben Plaza by 9 seconds. Rabobank's Denis Menchov regained the overall lead by a slim 47 second.
Menchov regains the Golden Jersey ( Image © Unipublic )
The Vuelta now headed to a tough stage in the Pyrenees Mountains and a brutal finishing climb to Ordino Arcalis, Andorra.
Return to Vuelta 05 ToC >>> Next Stage >>>