Florennes – Crucible of Champions
By Graham R. Jones, July 2005
When Stage 2 of the 2004 Tour de France came streaming through Florennes in Belgium few of the riders or race entourage probably noticed about 150 meters of shop windows painted with a mural to greet the Tour. In the center of town, just a short way beyond the shop windows, two colorful flags and an old bike were hoisted prominently to further greet the Tour. Before the riders arrived, and long after it left, a town festival was in progress with the typical small Belgian fair and liberal quantities of beer on hand supplied by the two town breweries.
Located in the south of the Ardennes about 20km from Charleroi to the North and 20km from the French border to the south, this small town of about 11,000 people would at first sight appear to be of little significance to the Tour. In actual fact the town of Florennes proudly proclaims itself "the crucible of champions." From 1913 until 1922, three of its residents won six Tour de France titles between them. As the mural on the shop windows depicted, both Firmin Lambot (winner in 1919 and 1922) and Leon Scieur (winner in 1921) were both born in Florennes. Philippe Thys (Tour champion in 1913, 1914 and 1920) was born in Brussels but lived for a while in Florennes. The town proudly boasts that it is the only commune in the world that can pride itself in being home to triple Tour winners.
Situated in rolling agricultural Ardennes countryside, Florennes holds little touristic attraction. It is a small, clean and friendly place but one that has entered the pages of history for far more than the Tour. Like many towns and villages across Europe it can trace its history back more than 1,000 years. Warring kings and dukes fought a fierce battle here in 1015 against King Heinrich II of Germany .
Over the centuries Florennes's location gave it the dubious pleasure of hosting many famous personalities. Naploeon passed this way and during the town festivities on last year's Tour de France day, many of the locals were dressed in Napoleonic costume to recall that time in history.
On May 15 th 1940 , Rommel's 7 th Panzer Division passed by Florennes as infantry was sent into the town to deal with any resistance. Towards the end of the war Florennes was almost overrun by the Germans during their Battle of the Bulge offensive through the Ardennes .
Firmin Lambot was born March 14, 1886 , in Florennes and started his working life as a harness maker. He first came to prominence in 1908 when he won both the championship of Flanders and then the Belgian Championship. During his first Tour de France in 1911 he showed himself to be strong in the mountains and by 1913 had gained a reputation for endurance in stage races and particularly very long stages. Naturally World War I then interrupted his racing. The 1919 edition of the Tour was both somber and challenging. Many of the great pre-war riders had perished during the war. Atrocious road conditions (especially in Northern France ) and scarcity of equipment and food greeted this Tour in which only 11 riders survived to the finish. Critics at the time seemed to be divided between recognizing Lambot as a worthy and great winner or as a lucky winner. On the penultimate stage Eugene Christophe had been in the Yellow Jersey for 10 stages but over brutal cobbled roads to Dunkirk his forks broke (just as he had experienced in 1913). The luckless Christophe had yet again to find a blacksmith and do his own repairs without help from anyone. Meanwhile Lambot rode away to become the first Tour de France GC winner in the Yellow Jersey. Appalled by the race conditions the always vocal and rebellious Pelissier brothers described the race as one for cart horses.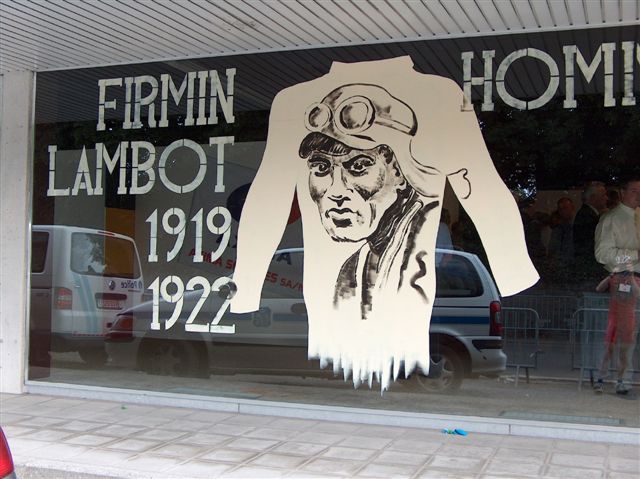 The window in Florennes
In 1920 Lambot made the podium in third place. In 1921 his fellow townsman Leon Scieur won the Tour with Lambot 9th. Lambot's second Tour de France win in 1922 was again credited to luck. This time on Stage 13 Hector Heusghem was leading the race when he swapped his damaged bike for another. For his troubles he was penalized one hour and Lambot moved into the race leadership which he held for the remaining two stages. Today he still holds the record as the oldest Tour winner: He was 36 years and 4 months old when he arrived in Paris .
Lambot's primary qualities were perseverance and courage combined with an immense capacity for endurance. At 1m 72cm he was a little over average height with an elegant and economical style on the bike. His angular face projected a gleam of discrete mischievousness from his black eyes. His intelligence guided him through the rigors, politics and intrigues of the Tour while his evenness of temper contributed to the positive nature of his team. After his racing years he moved to Antwerp to first open a garage before reverting to his original trade and building a saddlery business. He died in 1964.
Leon Scieur was born March 19, 1888 , in Florennes and started his working life as a glassmaker. He was introduced to the sport by Lambot and turned professional in 1913 and took part in his first Tour de France in 1914. Although he did not finish that year, Florennes celebrated its second Tour de France victory on the shoulders of town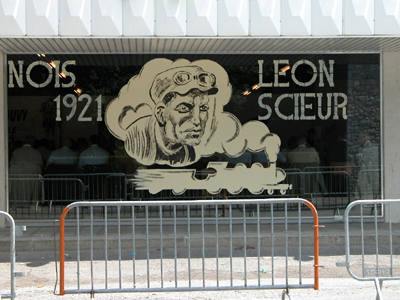 The window in Florennes
resident Philippe Thys with Lambot taking 8 th place. Scieur survived the Great War (WWI) working as a mechanic. In 1919 his future destiny was announced with his final fourth place overall (behind Lambot). He repeated fourth in 1920 behind Philippe Thys but that same year claimed a great victory in the Liege-Bastogne-Liege classic. His GC Yellow Jersey finally came in 1921. He was nicknamed 'the locomotive' for his relentless power and climbing ability. Described as solid as steel and healthy like a fish, he was unbeatable in 1921. He won two stages and held the Yellow Jersey for all but Stage 1. Compared to today's team tactics an interesting incident occurred on Stage 12 from Geneva to Strasbourg (371km). Scieur was away with Hector Heusghem and Honore Barthelemy. Behind them were Lambot and Louis Mottiat, who at the end of the day were relegated by Henri Desgrange to last place on the stage for not trying hard enough to chase down the break. Considering that all five riders were on the same team it should be no surprise that Lambot and Mottiat were content with the race situation. It took very many years for the mercurial Desgrange to accept team tactics as part of "his Tour."
Scieur abandoned the Tour on Stage 3 in 1922. In 1923 the Belgian lock on the Tour was broken by the temperamental Henri Pelissier to bring the race back to the French public and a grudgingly elated Desgrange. Official reports described Lambot and Scieur as suffering from too much stardom. Other sources indicate that Scieur became the victim of a sordid poisoning incident. The dirty games so prevalent in pre-war Tours were still very much in play.
In 1924 Scieur again abandoned but this time his powers were very much on the wane and in fact he retired that year from racing as a professional. This was the year of the famous Pelissier brothers' revolt against Desgrange. In truth they were also becoming too old to contest a Tour against new, young stars. The famous journalist Albert Londres reported the brothers' rantings and described a race run under dictatorial and almost prison-like conditions. He coined the now famous phrase "les forcats de la route" (convicts of the road).
Scieur settled in Florennes for the rest of his life. He remained a passionate fan of cycle racing and in particular admired Belgian champions and all things related to the Belgian racing scene. He owned a garage as well as distribution businesses for coal and gas. He passed away in 1969 in his town of birth.
Although Philippe Thys was born in Brussels (in 1890), and thus Flemish by birth, the Walloons of Florennes consider him one of their own because he lived in the town. Thys was the first triple winner of the Tour. His career as a professional started in 1912 and continued until 1927. Already during his first year he achieved sixth place on GC in the Tour. In addition to his Tour performances Thys also distinguished himself in many one- day classics. Considering his nationality it is incredible to see him listed as the winner of both the Paris-Tours and Tour of Lombardy in 1917. This was at a time when his country was being devastated by the most horrific war that the world had ever experienced.
History now considers Lambot as a rider who benefited immensely from luck and Scieur is remembered for his sheer staying power. Looking back at Thys one sees a rider akin to Lance Armstrong. An intelligent strategist and employing tactics not unlike Armstrong, he would conserve his energy and closely follow his primary adversaries. Even so his first Tour win in 1913 was at the expense of the famous misfortune of Eugene Christophe whose forks broke when on the Col du Tourmalet. Many would attribute Thys's win to luck but maybe more accurately it should be seen as being in the right place at the right time as Thys was riding with Christophe well in the race lead when the famous incident occurred.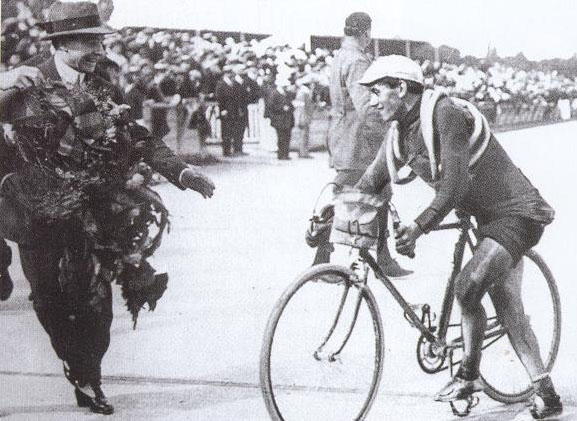 Thys 1914 Parc des Princes
In 1914 Thys and his manager arrived at the tour intent on victory. At the end of the first day he took the Yellow Jersey and then held on to it for the rest of the race (although he did share the lead with Jean Rossius for stages 2-5). The only real threats to his lead were his own teammates (Henri Pelissier, Jean Alavoine and Gustave Garrigou). In fact he almost conceded his lead to Pelissier on the penultimate stage when he was penalized 30 minutes for an unauthorized wheel change.
1919 saw Thys abandon on the first stage of the Tour but he was back in 1920 in unbeatable form. This time he held the Yellow Jersey for every stage except the first (which was won by Louis Mottiat). For each of his Tours , Thys was managed by the clever Alphonse Bauge. Their partnership bears a remarkable resemblance to the Armstrong and Johan Bruyneel team, particularly when it comes to planning and strategy. Bauge had his man conserve his energy in the hills, restrict mountain stage winners to small time gains and then extend his lead when the time was right. With Bauge focusing on Thys a win was almost certain. However the race statistics tell us that the outcome in 1920 was by no means an easy accomplishment. The brutal conditions of the time reduced the field of 113 starters to just 22 finishers in Paris.
Had World War I not intervened it is conceivable that Thys could have become the first five time Tour winner. However it is also clear that many great champions did not survive that war so the competitive environment was drastically altered come 1919. Thys himself led a full life until his passing in 1971.
Paris may well be the spiritual capital of the Tour but the little Belgian town of Florennes justly describes itself as a crucible of champions. For six consecutive Tours the town was home to these 'giants of the road.' After their racing careers, Lambot and Scieur remained close friends. Together with another local, Louis Mottiat, who was a prolific classics winner and multiple Tour de France stage winner from 1913 to 1924, they continued riding together into their 70's 'to maintain form.' One can only imagine the tales that they recounted on those idyllic rides.