We'll Meet Again (Part II)
** This Article was originally written in 2005 **

This year the world remembers the 60th anniversary of the ending of World War II. In our two-part article we look at cycling during the dark days of both World War I and World War II. Part II discusses World War II:
By 1939 the face of war had changed. Germany introduced the world to the horrors of the 'blitzkrieg.' Speed, advanced weaponry and overwhelming numbers crushed anyone who faced the Nazi war machine. Using the Spanish civil war to test their new methods, it fell to the town of Guernica to experience the new power of the Luftwaffe bombers. Forever immortalized in Picasso's famous painting named after the town, thousands perished by bomb and fire. The naivety and lack of comprehension for the new German might was nowhere better illustrated than when at the beginning of the war German tanks, aircraft, powerful field guns and infantry were opposed by the gallant and forlorn Polish horse cavalry.
Great Britain and her Commonwealth allies declared war on Germany on Sept. 3, 1939 . By May of the following year, France was occupied and British and Commonwealth forces on mainland Europe were hastily evacuated at Dunkerque. The Nazi war machine occupied European country after country until July 1940 Great Britain stood alone. On the 10 th of that month the Battle of Britain commenced and continued until Oct. 31. It was during this period that Churchill made some of his greatest speeches of defiance towards the enemy and moral boosting rhetoric to his beleaguered fellow countrymen. Although Germany was repelled from the island nation, it still had to suffer through many years of bombing raids.
It was not until the Normandy landings in June 1944 that the allies again became a presence on the European mainland. So unlike World War I, World War II was not mired in trench warfare in Flanders fields.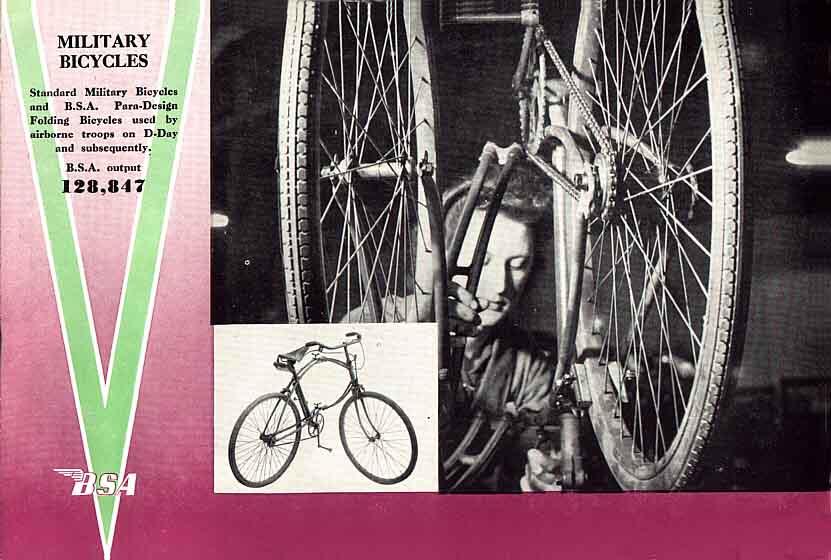 Bicycles were used extensively by all armies during WWI and WWII. In England BSA manufactured folding bikes for airborne troops.
In times of great national and international stress, leaders always look for ways to keep the population calm to avoid uprisings, anarchy and all out civil war. Sport is a great diversionary device at such times. With the Nazis occupying most of mainland Europe they promoted the continuation of such activities. For this reason although the Tour de France and Giro ceased, races like the five monuments continued. Incredibly, the Tour of Flanders took place throughout World War II. Paris-Roubaix was cancelled in 1940, -41 and –42, but it was back in 1943 and has continued since uninterrupted. During the war years Liege-Bastogne-Liege was only run in 1943. In Italy the Milan-San Remo only missed 1944 and 1945 and the Tour of Lombardy missed 1943 and 1944.
With the deprivations and restrictions of war it is not surprising to see each of the great races run during the war dominated and won by local nationals. However if you look at the period from 1936 to 1950, cycling was blessed with possibly two of the greatest riders ever. Gino Bartali ('Gino the Pious') first came to international prominence with his 1936 Giro and Lombardy wins. Fausto Coppi ('Il Campionissimo') entered the arena in 1940 when he won the Giro. From that time an intense rivalry erupted between Bartali and Coppi. Both men won the Tour de France twice, Coppi won the Giro fives times and Bartali won it three times. Between them they won the Milan-San Remo and Tour of Lombardy fifteen times.
On the political front the Coppi/Bartali rivalry is credited with helping save Italy from anarchy and potential civil war. In 1946 and 1947 Italy was seriously impoverished and gaining little sympathy from the rest of the world following Mussolini's reign and the country's association with the Nazis. At the time the Coppi/Bartali rivalry had captivated virtually the entire nation and split it in two. You were either a Coppista or a Bartalista. There are documented instances of politicians calling the great champions at particularly delicate times and asking them to produce significant race results in order to divert national attention away from political issues
Coppi was by conviction 'anti-military' but he was a patriot and enlisted for service. His unit, the 38 th Regiment of Infantry at Tortona, was destined to become part of the Italian expeditionary corps in Libya in 1942. At this time Coppi was obsessed with breaking the hour record and his military commanders gave him permission to make the attempt even though this would delay his transportation to the war zone.
Although Coppi trained meticulously he could not avoid the food shortages and it was an undernourished rider who started out on the famous boards of the Vigorelli track in Milan on Nov. 7. Between two air-raid warnings Coppi rode erratically but was still able to claim the record. After finishing, and totally spent, he swore never to attempt the hour record again. He kept his word.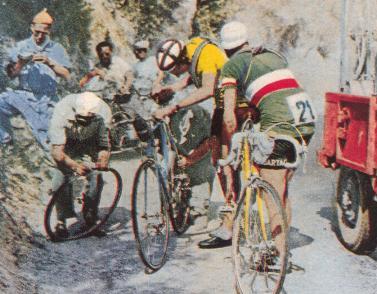 Two giants of the sport. Coppi and Bartali's intense rivalry polarized Italy. Their relationship evolved into mutual respect and friendship. In 1952 Coppi was at the peak of his powers and completely dominated the TdF. High in the mountains Coppi had three punctures within about 20kms. His teammate and former rival stopped and gave Coppi his wheel. This famous incident is said to have forged their friendship for life
This new achievement gave him no new benefits except that his journey to North Africa was delayed until the next contingent of his regiment was shipped out in March 1943. His war was short as he was captured along with most of his comrades on the 13 th of April and languished in British POW camps in the desert until 1945. At the beginning of that year Fausto was shipped back to Italy just north of Naples where he became batman (an orderly) to a British officer. A certain amount of freedom enabled him to ride his bike again and by the summer a weakened Coppi was racing again. By the following year he was back to full power as wins in the Milan-San Remo and Tour of Lombardy testify.
Gino Bartali never spoke of his wartime exploits but on the racing front we see that he won both the Milan-San Remo and Tour of Lombardy in 1940. After his death it was discovered that Gino had worked as a courier for a secret network. His job was to smuggle documents to create false identity papers that enabled several hundred Italian Jews to escape deportation and death. Gino was a deeply religious man (hence his nickname 'Gino the Pious') and a fierce competitor. His rivalry with Coppi is legendary but it is also known that the two men had great respect for each other and ultimately became great friends. Following Coppi's premature death in 1960 from Malaria, picked up during a hunting holiday in Africa , Bartali read the funeral oration.
During the war, the Nazis wanted the Tour de France to resume after their occupation of the country. Desgrange and his successor Jacques Goddet succeeded in not allowing this to happen because obviously it would have been used as another propaganda device. Desgrange, the great patriot, no doubt died of heartbreak having seen the humiliation of his country succumbing to German rule and no prospects for seeing his beloved Tour resume again. He died Aug. 16, 1940 .

After D-day 1944, airborne troops with their BSA bikes.

In occupied France the horror of the holocaust visited the Jewish population as it did elsewhere across Europe . An indirect cycling link occurred in 1942 when French police under German supervision rounded up thousands of Jews who were held at the old Vel d'Hiv velodrome which in happier times had been raced on by many great cycling champions . From the track the Jewish prisoners were shipped to Auschwitz . Amongst them were 4,000 children.
'Normal life' returned to occupied France as early as 1941 when the Criterium du Midi was organized. An attempt to create an 'ersatz Tour' resulted in the Circuit de France in 1942. Again in 1946 a five-day stage race called La Ronde de France was organized as a prelude to the Tour finally returning in 1947.
V-E Day (victory in Europe ) is May 8. V-J Day (victory in Japan ) is Aug. 15. This year we remember the 60 th anniversary of those tumultuous times. If nothing else, the history of cycling through those years is testament to the great human spirit. Peace was shattered, families and friends were torn apart. But as the famous World War II song sung by Vera Lynn echoed famously throughout those dark years:



We'll meet again,
Don't know where,
Don't know when,
But I know
We'll meet again
Some sunny day.