Coors Light Fired the Silver Bullet
Philadelphia, USA, June 18, 1989
1989 Champion:

Greg Oravetz (USA) 251 kms (156 miles) in 6h23'39" (39.39 km/h)
1989 US National Champion: (1st) Greg Oravetz (USA)
The 1989 CoreStates USPRO Championships attracted an outstanding international field to contest the 251 kms (156 miles) race through the streets of Philadelphia. Team Coors Light combined with small European pro-team ADR to bring American super star Greg LeMond to compete for the Stars and Stripes jersey. The powerful 7-Eleven team would battle all day with the "Silver Bullets" of Coors Light/ADR.
The starter's flag dropped for the 86 riders promptly at 9 AM. Wheaties/Schwinn offered the first hard attack of the day on the first lap. British track rider Shawn Wallace stayed away solo for five laps and built enough points to secure the King of the Mountains prize before returning to the peloton.
The prime time racing started on the sixth lap. Defending National champion Ron Kiefel attacked up Strawberry Hill and escaped with Mike Engleman (Wheaties/Schwinn) and Coors Light's Greg Oravetz. Aussie Scott Steward (Polti) quickly bridged up to the breakaway group as they completed the seventh lap. For 60 miles the four rider breakaway worked to gain a 3'46" advantage with 37 miles to go.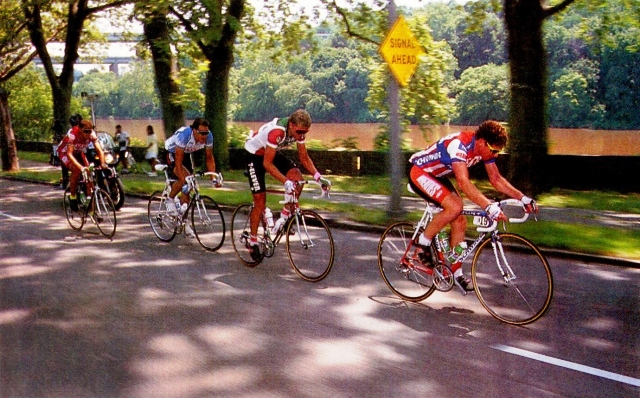 Winning Breakaway (R to L) Mike Engleman, Ron Kiefel, Greg Oravetz, and Scott Steward
When Oravetz got team orders and stopped working Kiefel thought Coors Light must be chasing. Not wanting the peloton to re-connect, Kiefel and Mike Engleman drove the hard pace of the breakaway.
Coors Light was in control with Oravetz in the break and Alexis Grewal in a chasing group. The hard charging chase group caught the leaders with three short laps (Lemon Loops) to go. Ron Kiefel made one final attack over Lemon Hill, but Grewal quickly answered with Oravetz on his wheel. Approaching Logan Circle Oravetz blasted by Grewal. Only an alert Mike Engleman could answer the attack. The two gained a gap of 35 seconds but the chasers were closing quickly. Coming around Logan Circle for the final time, Oravetz took the lead coming down the Benjamin Franklin Parkway to the cheers of huge crowds. His last jump at 150 meters was enough to gap Mike Engleman (Wheaties/Schwinn) and the prestigious victory was his.

Coors Light's "Silver Bullet" Greg Oravetz sprints past Engleman for the victory
Coors Light's Greg Oravetz at 22 years of age became the youngest USPRO Champion in the history of the event.
Top 10
1. Greg Oravetz (USA) Coors Light/ADR 6h23'39" (39.39 km/h)
2. Mike Engleman (USA) Wheaties/Schwinn
3. Alexis Grewal (USA) Coors Light/ADR +50"
4. Ron Kiefel (USA) 7-Eleven
5. Serge Demierre (Sui) Helvetia/La Suisse
6. Scott Steward (Aus) Polli/Mobiexport/Fanini
7. Steve Swart (NZl) Spago-Finlandia
8. Henri Manders (Ned) Helvetia/La Suisse +2'08"
9. Roberto Gaggioli (Ita) Eurocar/Galli
10. Greg LeMond (USA) Coors Light/ADR
USA National Championship Podium
1. Greg Oravetz (USA) Coors Light/ADR
2. Mike Engleman (USA) Wheaties/Schwinn
3. Alexis Grewal (USA) Coors Light/ADR
Return to ToC >>> Return to Philly ToC >>>