By Barry Boyce, CyclingRevealed Historian
Argentin's Late Charge
Two time defending champion Moreno Argentin and reigning World Champion made a late in the race surge to claim his third consecutive Liege-Bastogne-Liege victory.

Claude Criquielion (L) and Stephen Roche (R)
All eyes were on the 2 rider breakaway containing Stephen Roche (Ire) and Claude Criquielion (Bel), who escaped on the climb of the La Redoute. The victory seemed assured to the duo as the race entered the final 3 kms. Roche and Criquielion began to ride cautiously into the finishing stretch on the Boulevard de la Sauvemere in Liege. While the game of "cat & mouse" played out, Argentin, Laurent Fignon, Robert Millar, and Yvon Madiot closed quickly.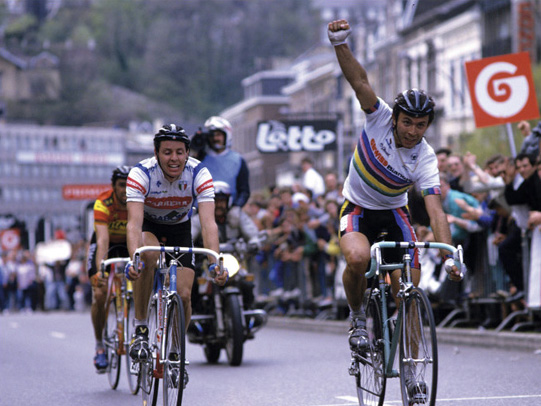 Argentin VICTORY!!!
When the breakaway was caught Argentin, sensing a fatigue in the group, attacked immediately. Roche tried to answer the move but faded as Italian Moreno Argentin cruised to his third straight L-B-L victory.
L-B-L April 19, 1987
258 Km
1. Moreno ARGENTIN (Ita) 6h40'00"
2. Stephen Roche (Ire)
3. Claude Criquielion (Bel)
Starters: 207
Finishers: 102
Average Speed: 38.700 km/h
Return to the Timeline ToC
Return to the Race Snippets ToC