Mottet Turns It ON!
The "Race of the Falling Leaves" comes at the end of a grueling season. For the 1988 Giro di Lombardia most of the peloton started the race with tire legs. The riders were all looking forward to a vacation… starting tomorrow.
Newly crowned World Road Race Champion Maurizio Fondriest (Ita) led the peloton out of Como headed for the finish in Milan. When the race hit the climbs of the day, tired legs saw numerous riders falling off the back. Only 35 of the 177 starters would finish the race.
The first serious breakaway came on the descent of Valco d Esino Lario, when Fondriest escaped with Claudio Chappucci and Dutchman Patrick Tolhoek.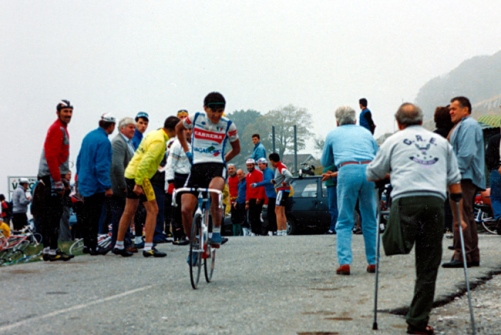 But the chase was relentless and following a Fondriest solo bid, a small group caught the three leaders on the climb of the Valico di Valcava.
Frenchman Charly Mottet rode aggressively over the climb and broke away. Only Luc Roosen (Bel) could hold Mottet's wheel. Following the feed zone Roosen had an unfortunate puncture and Mottet grasped the opportunity to go solo.
The only remaining obstacle was the tough climb of the Col di Valpana. A focused Mottet managed to extend his lead on the climb and rode solo the final 60 kms alone. He entered the Corso Buenos Aires nearly two minutes ahead.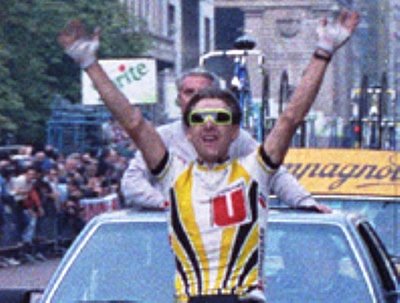 Charly Mottet
The inspired Frenchman crossed the finish line to claim a 1'40" solo victory.

GdL October 15, 1988
260 Km, Como-Milan (Corso Venezia)
1. Charly MOTTET (Fra) 6h49'05"
2. Gianni Bugno (Ita) +1'40"
3. Marino Lejarreta (Spa) +1'45"
Average Speed: 38.134 km/h
Return to the Timeline ToC
Return to the Race Snippets ToC