Frenchman's Controversial Win
Spain was plunged into civil war; Adolf Hitler was pushing his Aryan race at the Olympic Games in Berlin as tensions expanded throughout Europe. The start of Paris-Roubaix gave France a respite from the conflict.
The powerful Belgian teams drove a brutal pace, attacking relentlessly. Frenchman George Speicher survived the Belgian pressure and entered the Velodrome with Belgans Romain Maes and Gaston Rebry. 40,000 fans roared to see Speicher in the breakaway.
Maes and Speicher pushed to the finish line with Maes the apparent winner. Controversy erupted when the finish line judge declared Speicher the winner. Flemish fans were outrage, but the results stood.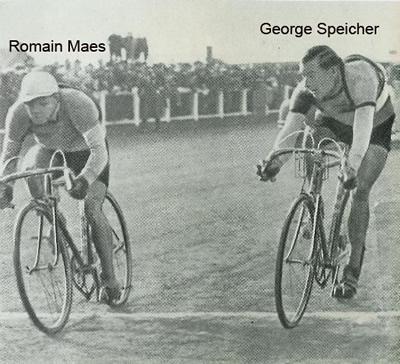 Maes appears to have beaten Speicher
George Speicher added Paris-Roubaix to his 1933 Tour de France victory and 1933 World Road Race Champonship.
P-R April 12, 1936
262 Km, Porte Maillot Paris to Marcq (Flanders Horse Track)
1. George SPEICHER (Fra) 7h15'01"
2. Romain Maes (Bel)
3. Gaston Rebry (Bel)
Starters: 155
Finishers: 40
Average Speed: 36.136 km/h
Return to the Timeline ToC
Return to the Race Snippets ToC