Van Looy… AGAIN!
Defending champion and reigning World Champion Rik Van Looy was dominating his rivals during the early 1962 season. His "Rainbow Jersey " served as a bulls-eye for the 164 Paris-Roubaix starters. Van Looy's Faeme-Flandria team controlled the peloton as the race approached the Hill at Doullens. Van Looy shattered the field with a strong attack up the hill. Quickly a 40 rider group was thinned to 15.
Raymond Poulidor generated an elite group of 5 with 15 km to go as the contenders beagn jockeying for position in the line. Poulidor attacked again at the Roubaix city line, Van Looy answered easily. Van Looy immediately counter-attacked.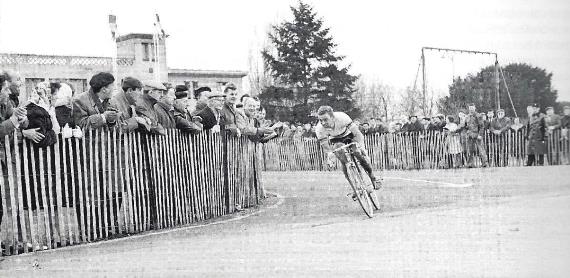 Rik Van Looy entered the velodrome alone and crossed the finish line for his second consecutive Paris-Roubaix victory.
P-R April 9, 1962
258 Km, St. Denis (north of Paris) to Roubaix (Velodrome)
1. Rik VAN LOOY (Bel) 6h43'57"
2. Emile Daems (Bel) +25"
3. Frans Schoubben (Bel)
Starters: 164
Finishers: 76
Average Speed: 38.321 km/h
Return to the Timeline ToC
Return to the Race Snippets ToC