By Barry Boyce CyclingRevealed Historian
"Assassins..."
The early years of the Tour de France (TdF) were the pioneering years. Race director Henri Desgranges was always looking new and innovative way to avoid the "pitfalls of complacency". Helped by input from TdF staff members, Desgranges skeptically embraced a new idea put forth by his assistant Alphonse Steines. Steines suggested the inclusion of the monstrous climbs of the Pyrenees Mountains. "Steines, are you crazy?" responded Desgranges. After the significant persuasion concerning the Pyrenees, Desgranges did agree to investigate the area and dispatched Steines to take a look at the Col du Tourmalet.
Steines' expedition convinced Desgranges and six months late the race schedule was altered to include an incursion into the high mountains of the Pyrenees. The press wrote of the new stage routes in the wilderness of the Pyrenees as "dangerous" and "bizarre." This was much to the delight of race director Desgranges and his newspaper Le Auto. July 27, 1910 was a very hot day in the south of France and Octave Lapize was aggressive from the start of the stage. He won the first three climbs and attacked early on the Col d'Aubisque. Race officials anxiously waiting at the top of the Aubisque watched for the first riders. Lapize a climbing specialist walked, ran, and pedaled his way up the climbs. Slowly he appeared at the summit in great distress and pushing his bike. Upon reaching the summit Lapize angrily shouted "ASSASSINS..." at the race officials as he passed. Across the top of the Aubisque Lapize was able to recover, catch Lafourcade on the way into Bayonne, and win the stage.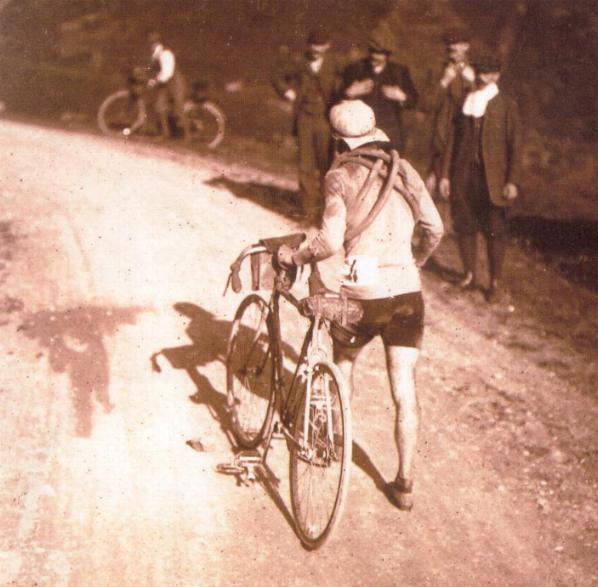 Octave Lapize walking over the Col d'Aubisque
Henri Desgranges saw the new mountainous formula become a great success. Over the years the climb of the Col du Tourmalet, the Pyrenees giant, has been used in more Tours than any other climb. With the inclusion of the dangerous Pyrenees Mountains and the riders shouting "Assassins..." and "Murderers..." Tour legend was made in 1910. The press contributed tremendously to the legend by naming the hardest day in the Pyrenees "The Circle of Death", where hopes of a Tour de France victory go to die.
| | | |
| --- | --- | --- |
| Stage and Distance | Stage Winner | Race Leader |
| Stage 1 Paris-Roubaix, 272 km | Charles Crupelandt (Fra) | Charles Crupelandt (Fra) |
| Stage 2 Roubaix-Metz, 398 km | Francois Faber (Lux) | Francois Faber (Lux) |
| Stage 3 Metz-Belfort, 259 km | Emile Georget (Fra) | Francois Faber (Lux) |
| Stage 4 Belfort-Lyon, 309 km | Francois Faber (Lux) | Francois Faber (Lux) |
| Stage 5 lyon-Grenoble, 311 km | Octave Lapize (Fra) | Francois Faber (Lux) |
| Stage 6 Grenoble-Nice, 345 km | Julien Maitron (Fra) | Francois Faber (Lux) |
| Stage 7 Nice-Nimes, 345 km | Francois Faber (Lux) | Francois Faber (Lux) |
| Stage 8 Nimes-Perpignan, 224 km | Georges Paulmier (Fra) | Francois Faber (Lux) |
| Stage 9 Perpignan-Luchon, 289 km | Octave Lapize (Fra) | Francois Faber (Lux) |
| Stage 10 Luchon-Bayonne, 326 km | Octave Lapize (Fra) | Francois Faber (Lux) |
| Stage 11 Bayonne-Bordeaux, 269 km | Ernest Paul (Fra) | Francois Faber (Lux) |
| Stage 12 Bordeaux-Nantes, 391 km | Louis Trousselier (Fra) | Francois Faber (Lux) |
| Stage 13 Nantes-Brest, 321 km | Gustave Garrigou (Fra) | Octave Lapize (Fra) |
| Stage 14 Brest-Caen, 424 km | Octave Lapize (Fra) | Octave Lapize (Fra) |
| Stage 15 Caen-Paris/Parc des Princes, 251 km | Ernesto Azzini (Ita) | Octave Lapize (Fra) |
TdF July 3-31, 1910
4,734 Km
1. Octave LAPIZE (Fra) 63 pts
2. Francois Faber (Lux) 67 pts
3. Gustave Garrigou (Fra) 86 pts
Starters: 110
Finishers: 41
Average Speed: 28.680 km/h
Return to the Timeline ToC
Return to the Race Snippets ToC