CyclingRevealed's Giro Perspective
Tappa 18, May 27th, Chieri to Torino, 31 km Individual Time Trial
Race of Truth for the Contenders
The individual time trial at Chieri di Torino was an opportunity for Gilberto Simoni (+58") and race leader Paolo Savoldelli to assert themselves in the Race of Truth.
The promoters designed a difficult time trial course with the intent that the strongest would prevail. The midway climb of the Colle di Superga would be key to a fast time.
Savoldelli rode through the 8.7 km time check at the base of the climb only 5 seconds ahead of Simoni. By the summit of the Colle di Superga at the 15.7 km check the Maglia Rosa opened a 14 second lead.

Race leader Paolo Savoldelli [ Image ©: www.gazzetta.it ]
Stage 18 winner Ivan Basso scorched the course in 45 minutes, 5 seconds (45.249kph) for the stage win.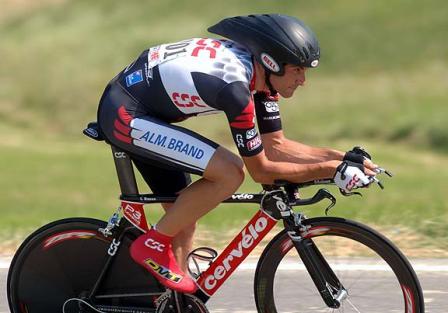 Stage winner Ivan Basso [ Image ©: www.gazzetta.it ]
In the battle in the General Classification Paolo Savoldelli, who finished 4th on the stage, added to his race lead over Gilberto Simoni, who finished 10th a 1 min 10 sec behind Savoldelli. Simoni now trailed by +2 min 9 sec going into the Giro's penultimate test over the Colle delle Finestre on stage 19.
Return to Giro 05 ToC >>> Previous Stage >>> Next Stage >>>