CyclingRevealed's Giro Perspective
Tappa 19, May 28th, Savigliano to Sestriere (Le Valli Olimpiche), 190 km
A Final Showdown on an Unmade Road
The final battle ground for the 88th Giro d'Italia will be on the Colle delle Finestre, 18.5 km long (sections were unpaved dirt roads), with a 9.2% average grade, max 14%. After this brutal test the race was set up for the final 9.8 km climb to Sestriere. It would decide in dramatic fashion.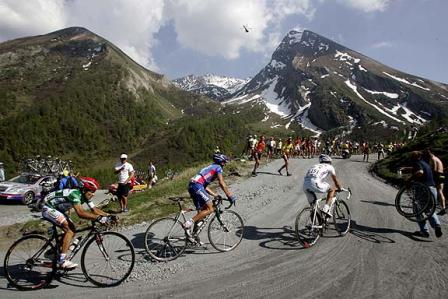 The breakaway led byGilberto Simoni, Danilo Di Luca and Jose Rujano [ Image ©: www.gazzetta.it ]
Race leader Paolo Savoldelli saw his Maglia Rosa come under fire on the Colle delle Finestre after Gilberto Simoni, Jose Rujano, wearing the best climber's jersey, and Danilo Di Luca attacked and escaped the Savoldelli group.

Paolo Savoldelli group [ Image ©: www.gazzetta.it ]

Huge crowds of tifosi on the Finestre
Over the summit of the Finestre Savoldelli was trailing by 2 min 8 sec and his race lead was in jeopardy. Known as one of the best descenders in cycling, Il Falco plunged down the treacherous 6 km descent and took back 28 seconds. He was putting himself back into the overall lead at the base of the Sestriere climb.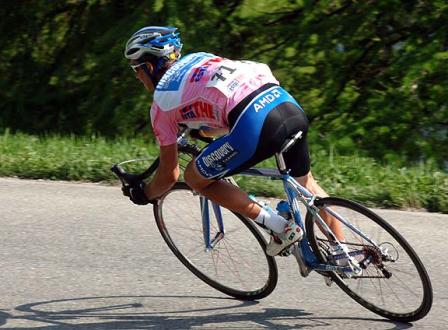 Savoldelli's daring plunge off the Finestre
Jose Rujano, trailing in the GC by 3 minutes, was firing on all cylinders with 2km to go and expanded the time gap over Savoldelli to nearly two minutes. With the 20-second time bonus for the stage win, Rujano only needed 2'41" to take the race lead and pull off the huge upset.

In the closing kilometers Savoldelli began to recover. His time gap began to come down and with some help from Juan Garate, Tajek Valjavec, and Wim Van Huffel crossed the finish line in 7th place, 1'55" behind. His race lead had survived!!!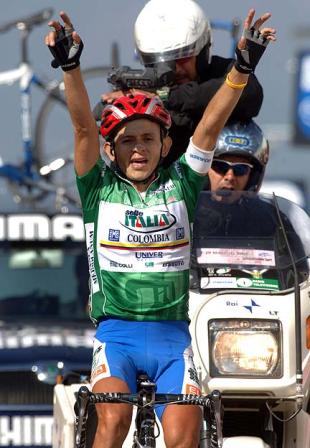 Stage winner Jose Rujano [ Image ©: www.gazzetta.it ]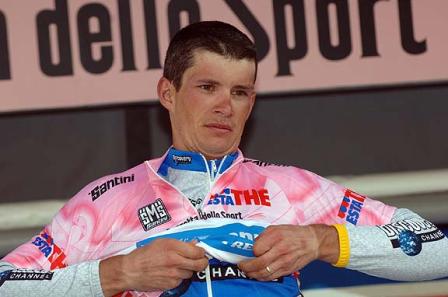 Race Leader Paolo Savoldelli
Return to Giro 05 ToC >>> Previous Stage >>> Next Stage >>>