CyclingRevealed's Giro Perspective
Tappa 4- May 11th, Giffoni Valle Plana to Frosinone, 187 km
An Unpredictable Italian Day
The stage from Giffoni Valle Piana to Frosinone barely had an elevation change. It was a day designed for the sprinters.
The breakaway of the day was established 24 kms into the stage. Cofidis' Cedric Vasseur and Saunier-Duval's Marco Pinotti set an aggressive tempo that made the contenders give up their easy ride and the breakaway never gain significant time. The Franco/Italo breakaway was caught with 50 kms to go.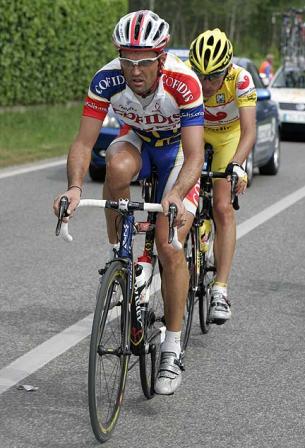 Cedric Vasseur (Front) and Marco Pinotti enjoy the day's breakaway [ Image by La Gazetta ]
Predictably it was now time for the peloton to get to work. Unpredictably twelve kilometers from the finish a large crash split the field. Only a few sprinters avoided the crash and got into the group of 50. With no team support the tough climb of the Via Napoli, just 4 kms from the finish, became critical.
Yesterday Danilo Di Luca did the damage, today it was Paolo Bettini. Into the finishing straight in Frosinone only Baden Cooke had the legs to follow Bettini. As Cooke started to come around Bettini at the 100 meters mark the Italian squeezed to the left driving Cooke into the barricades. In spectacular fashion Cooke somersaulted down the road.
Bettini and Cooke in the sprint [ Image by La Gazetta ]

Angrily Cooke crossed the finish line on foot and lodged an immediate protest. Bettini approached Cooke to explain his concerns but the Aussie sprinter would none of it.

Cooke did not want to talk with Bettini [ Image by La Gazetta ]
The commissaries relegated Bettini for an illegal sprint. Luca Mazzanti was awarded the stage win. Bettini retained the Maglia Rosa.

Stage winner Luca Mazzanti [ Image by La Gazetta ]
Return to Giro 05 ToC >>> Previous Stage >>> Next Stage >>>