CyclingRevealed's Giro Perspective
Tappa 5, May 12th, Celano to L'Aquilla, 223 km
Time to Get Serious
It's fair to say the tifosi were more than disheartened after yesterday's relegation of Il Grillo Paolo Bettini. But today's typical mountain stage would heal most hurt feelings. With three classified mountains (GPM competition) to contest the various classifications will see major changes. The tough stage will test the contenders with Category 2 climbs of the Passo del Diavolo (Devils Pass) and the Valico di Monte Godi, before the unheralded Category 1 Monte Urano climb to Goriano Sicoli.
The usual "breakaway of the day" generated some interest with the presence of the Maglia Rosa Paolo Bettini. Being an early in the stage breakaway the five rider group was given a certain amount of freedom and built an 8'50" lead at the summit of the Valico di Monte Godi.

The Maglia Rosa Paolo Bettini led the early breakaway [ Image by La Gazetta ]
The Liquigas led peloton began to increase the tempo and over the next 50 kms caught the last of the breakaway on the Monte Urano. A series of futile attacks were easily controlled by Liquigas but the speed of the pack was very high.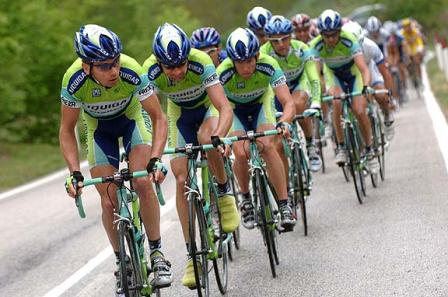 Liquigas upped the tempo with 10 kms to go [ Image by La Gazetta ]
With 4km to go, it was gruppo compatto. The peloton began to set up their contenders for the 1300 meter climb to the finish in the historic City center of l'Aquila. Liquigas's Andrea Noè was leading out Di Luca, and inside l'ultimo chilometro, Matthias Kessler was leading Tadej Valjavec, Di Luca, Ivan Basso and Damiano Cunego. Di Luca easily countered the head of the pack and moved free with 50m to go. His drive to the line won the stage and he was rewarded with the Maglia Rosa.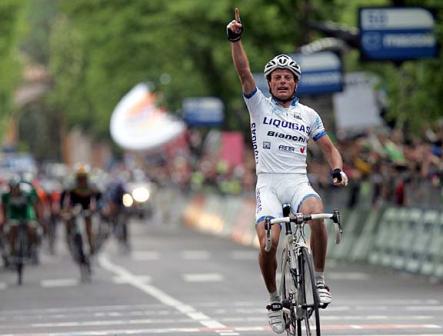 Stage winner Danilo Di Luca [ Image by La Gazetta ]
Return to Giro 05 ToC >>> Previous Stage >>> Next Stage >>>