Vuelta Travelogue - Quintessential Spain
Stage 14, September 10th, Nestlé/La Penilla to Lagos de Covadonga, 172.3 Km
The Mythical Mountain
If not already decided, the next two days should shape the Vuelta's podium. First up is a very challenging mountain stage (Stage 14) that culminates atop the Categoría Especial Lagos de Covadonga. It is here amongst spectacular scenery that we are reminded of the race start in Granada and the link with the Moors. Back in the eighth century it was here in the Picos valley of Covadonga that the stout Asturians held out against the Moors. The story is that their leader Pelayo and his men, assisted by the Holy Cross and Virgin of Battles, trounced 20,000 Moors around 724 A.D. Pelayo became king and the Christian Reconquest or reconquista began (it finally succeeded in Granada in 1492).
The peloton rolls through the "Official Start " in La Penilla ( Image © Unipublic )
Stage 14 is one of the key stages in this year's Vuelta with the finishing climb of the mythical Lagos de Covadonga. The breakaway " de jour " escaped only 39 km into the stage. Talented climber Eladio Jimenez rode prominently in the 14 rider group which built an 8'12" lead at the foot of the Alto del Ortigueiro. With 40 km to go the peloton started a serious chase.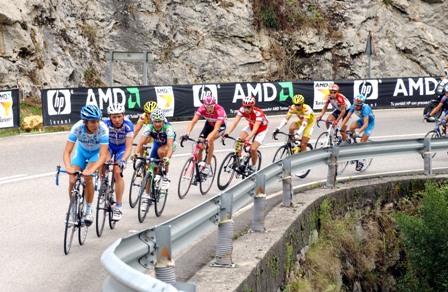 The breakaway on the Alto del Ortiguero, Jimenez third in line ( Image © Unipublic )
The time gap was tumbling rapidly as the 12 km climb of the Covadonga started. The lead hovered at around 2'50" when Eladio Jimenez (Comunidad Valenciana) attacked the fading breakaway and set a relentless pace. Behind Liberty Seguros put in a brutal acceleration to help Roberto Heras narrow the chasing group. A determined race leader Denis Menchov worked hard to hold Heras' wheel.
Liberty accelerates with Menchov glued to Heras' wheel ( Image © Unipublic )
With 7 km to go the climb hit the steepest section at La Huesera (14%) as Jimenez's strong tempo maintained a 2 minute gap to Menchov and Heras. Under the 2 km banner Jimenez continues to be strong, while Heras is unable to drop Menchov.
After a 133 km breakaway Eladio Jimenez rolled across the finish line celebrating the stage win with a "torero (bullfighter) move." Saunier Duval's Inigo Cuesta sprinted in for second place followed by Lampre's Gilberto Simoni. Denis Menchov remained the overall race leader.
Jimenez celebrates victory ( Image © Unipublic )
Another very difficult mountain stage tomorrow may be Roberto Heras' last chance to regain the Golden Jersey.
Return to Vuelta 05 ToC >>> Next Stage >>>