The CRASH
The biggest cycling controversy of 1988 came in Renaix (Ronse), Belgium. The 274km World Championship Road Race lacked any excitement for most of the day as an eleven rider breakaway approached the finish. Belgian favorite Claude Criquielion attacked on the final climb of the Kruisberg with Maurizio Fontriest sitting on his wheel. Canadian Steve Bauer joined the two as the three enter the finish area.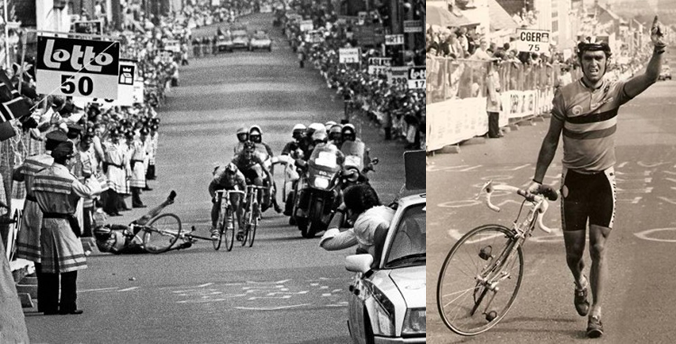 Steve Bauer made the first move with 75 meters to go. Belgian Criquielion patiently followed the move. Bauer reached down to shift with his right hand as Criquielion surged forward along the barriers. For a moment Bauer lost control and swerved to the right. Criquielion had no where to go and collided with Bauer as the Canadian's elbow winged out. Criquielion crashed heavily. Bauer slowed following the contact and 23 year old Italian Maurizio Fontriest sprinted past for the victory. Bauer rolled across the line second, but was relegated following the incident.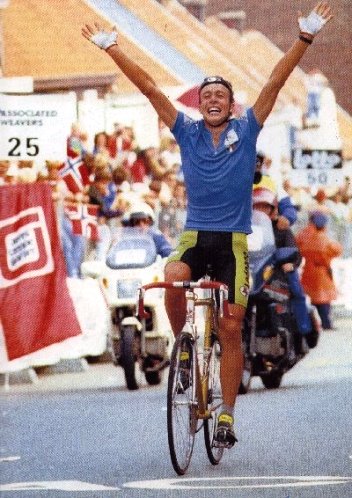 SPECIAL NOTE 1: Claude Criquielion sued Steve Bauer in the Belgian court system. The courts heard the case for more than three years before the judge ruled in Bauer's favor.

SPECIAL NOTE 2: 25 years prior in 1963 another controversial ending to the WCRR occurred in Renaix. Belgian Benoni Beyeht made a charge to the line. Van Looy bolted across the road forcing Beyeht to put out his hand. Was it a push, was it a pull or was it just to avoid crashing? See WCRR Race Snippet 1963.

WCRR August 28, 1988
274 Km [ Renaix (Ronse), Belgium ]
1. Maurizio Fondriest (Ita) 7h02'11"
2. Martial Gayant (Fra) +27"
3. Juan Fernandez (Spa) +41"
Starters: 178
Finishers: 79
Average Speed: 38.660 km/h
Return to the Timeline ToC
Return to the Race Snippets ToC