The Perfectly Timed Sprint
Welcome to Chambery, France for the 1989 World Road Race Championships. The 21 lap race on a 12.5km hilly circuit covered 262.5km in 6h45'59".
American Greg LeMond timed his sprint to perfection to claim his second World RR Championship. The 1989 Tour de France winner LeMond entered the race at the top of a stellar list of contenders.
An early 3 rider breakaway became nine (including Dimitri Konyshev) on lap number 8. The group built a five minute advantage before the LeMond/Fignon/Kelly led peloton began to take notice on lap 15. the final 2 riders, Konyshev and Thierry Chaveyroulat were caught on lap 19. A broken rear wheel on lap 18 slowed LeMond but did not stop the American. "If I had stopped for repair I would not have been in the breakaway" LeMond added after the race.
Heavy rain with thunder and lightning hit the riders with one lap to go. Dutchman Stephen Rooks set the tempo on the final climb, but the lead group shattered on the climb. It was 2-time Tour de France champion Laurent Fignon who attacked before the summit. LeMond reacted and passed the Frenchman and opened a gap. Fignon battled back to the leaders, now 5 strong including Konyshev and Sean Kelly, on the slippery descent into the finish.
The leaders flew into the final kilometer as a confident LeMond lead out the sprint at 200 meters. Pushing a huge gear (54-11) LeMond held off Kelly (53-13 gear) and an inspired 2nd placed Russian Dimitri Konyshev for the victory.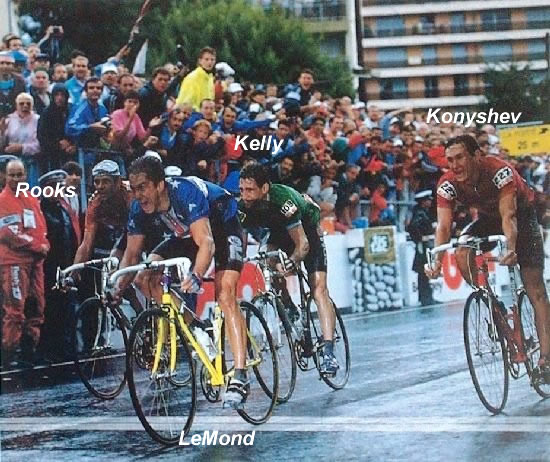 American Greg LeMond winning the 1989 World Championship RR (photo from archives)

WCRR August 27, 1989
262.5 Km [ Chambery, France ]
1. Greg LeMond (USA) 6h45'59"
2. Dimitri Konyshev (Rus)
3. Sean Kelly (Ire)
Starters: 190
Finishers: 42
Average Speed: 38.329 km/h
Return to the Timeline ToC
Return to the Race Snippets ToC